The Atari VCS gets a nice little hardware jump to attract gamers and consumers, but will it be enough?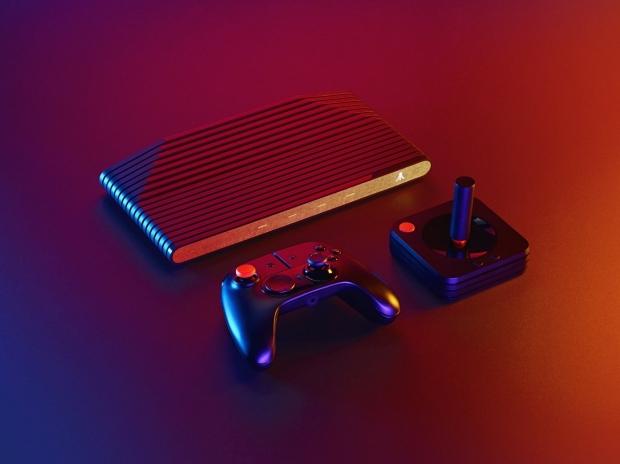 Right from the very beginning Atari's new VCS console seemed like an iffy bet. The system, which is touted as a kind of all-in-one media box, seems a kind of redundant: it's somewhat expensive and scratches an itch that most mini PCs can achieve. One of the chief concerns was the Atari VCS' power; the company says the console can play games on its Linux platform but some specs were lacking, namely in the RAM offering.
Apparently Atari thought the same thing, which is why it's doubling the VCS' RAM. In a recent Medium post VCS system architect Rob Wyatt revealed the console will now have 8GB of unified DDR4 system memory (likely 2400MHz) versus the original 4GB module.
"The VCS hardware will be powered by an AMD Bristol Ridge family APU with Radeon R7 graphics and is now going to get 8 gigabytes of unified memory. This is a huge upgrade from what was originally specified and unlike other consoles it's all available, we won't reserve 25% of hardware resources for system use," Wyatt said.
But specs aren't everything. The VCS is to be a gateway to a new Atari-centric storefront that sells both classic and revamped Atari games, as well as other indies and partnered titles. The platform will also host various multimedia options including streaming, media playback between tethered devices, and web browsing.
ATARI GOES ONLINE

For the first time on an Atari device, access the Internet for updated Online Multi-Player experiences and to browse, download, or stream more favorites.*

The all-new Atari VCS Store promises a unique new experience. Atari is joining forces with a leading industry partner to be announced shortly, with the shared mission to provide exciting and diverse games and other entertainment content for the Atari VCS.

Browse countless new and classic games from both Atari and a host of partner studios and publishers. While we can't list all the great partners we will have just yet, gamers will be thrilled on day one.

By Spring 2019 when Atari VCS ships, we plan to have new and exclusive games for you to download* or stream, including reimagined classic titles from Atari and other top developers that are ready-to-play, with even more to come!

(*Subscription required for advanced services and cloud storage.)

Tempest 4000 will be there, along with other all-new, modern Atari games currently in development for VCS!
The Atari VCS is slated to ship by July 2019. Fully announced specifications have been included below:
Atari VCS Specifications
Specification* Measurement

Unit Dimensions 14.5" x 5.3" x 1.6"

Unit Weight 3 lbs.

Materials Plastic, Metal, Wood

Operating System Linux OS based on Ubuntu (Linux Kernel 4.10)

Compatible Systems Linux

Power Low TDP architecture - Less Heat & Noise

Connections HDMI 2.0, 2.4/5GHz Wi-Fi, Bluetooth 5.0, Gigabit Ethernet, 4xUSB 3.0

External Inputs Classic Joystick, Modern Controller, Microphone

Storage 32GB eMMC, external HD, SD card

RAM 8GB DDR4 RAM

Memory 32GB eMMC

CPU Bristol Ridge A10

GPU Radeon R7

HDCP Integration HDCP 2.2

Second Screen (Screencasting) Yes

Cloud Storage Yes. Additional Service Offering

Required Internet Connection Not for classic gaming but required to access all features

Cross Game Chat Skype, Discord, etc.

Voice Commands 4-front facing mic array

Subscription Needed? No. Includes cloud and other services.

Live Streaming Yes with Twitch.tv

Mouse & Keyboard Support Yes
Classic Joystick Specs
Features Spec (US)

center joystick Yes

trigger button Yes

reactive LED ring Yes

Wireless Bluetooth

USB USB C

Battery Rechargeable

Approx. Weight 16 oz.

PC, Android Compatible Yes

Approx. Dimensions 4 x 4 x 4 inches

USB play/charge cable 4 foot

Headset Port No
Modern Controller Specs
Features Spec (US)

L/R joysticks Yes

L/R Triggers Yes

L/R Shoulder buttons Yes

Home/menu buttons Yes

D-Pad Yes

4 function buttons Yes

Ergonomic grip Yes

Wireless Bluetooth

USB USB C

Battery Rechargeable

LED charge indicator Yes

Approx. Weight 16 oz.

PC, Android Compatible Yes

Approx. Dimensions 6 x 4.5 x 2 inches

USB play/charge cable 4 foot

Headset Port TBD