Fortnite's mysterious rocket launches, tears the atmosphere
A tear in the atmosphere of Fortnite has happened after the rocket flew into the sky and exploded.

Published Sun, Jul 1 2018 10:38 PM CDT
|
Updated Tue, Nov 3 2020 11:51 AM CST
The world of Fortnite is an ever-changing one, with Epic Games trolling players with a rocket that has sat on the map and a countdown clock that has finally reached zero. Sirens went off, and a launch happened...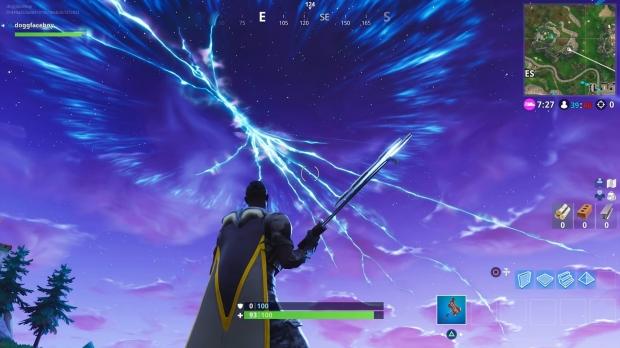 Once the rocket reached its peak, something broke away from the rocket and crashed into the Earth. Early reports of this stated it was a smaller ship that flew across the sky and around the area, blasting through the sky and then leaving a "tear" in the atmosphere. Other people reported seeing two ships, but we have no idea for sure.
Epic knows how to throw an in-game event in Fortnite, with a world that is constantly under the scrutiny of its fans. Fortnite is awesome, and I'm sure the fun is only just beginning.
Related Tags