What Is Bitdefender BOX?
This is a hard one to explain because people think that most security is done either on your PC (with software) or on your router (hardware protection). But, this is where Bitdefender steps in with their hardware offering in the Bitdefender BOX 2, the successor to the original BOX device.
The new BOX is the same hardware security appliance that the original one was, which works with your modem or router, but it can also function as the router if you don't already have one.
BOX can protect your various devices that are running Windows, Mac OS or Android... but it can also protect iOS devices, Kindle-based devices, smart TVs, consoles, smart thermostats, and any other internet-connected device. It's not just a simple solution, it's an all-round security solution.
BOX 1 + BOX 2: What Are The Differences?
There are some rather large hardware-based changes between the BOX 1 and BOX 2, with the original BOX packing a single-core CPU at 400MHz, 64MB DDR2, 16MB flash, 802.11 b/g/n Wi-Fi, and 100Mbps of throughput.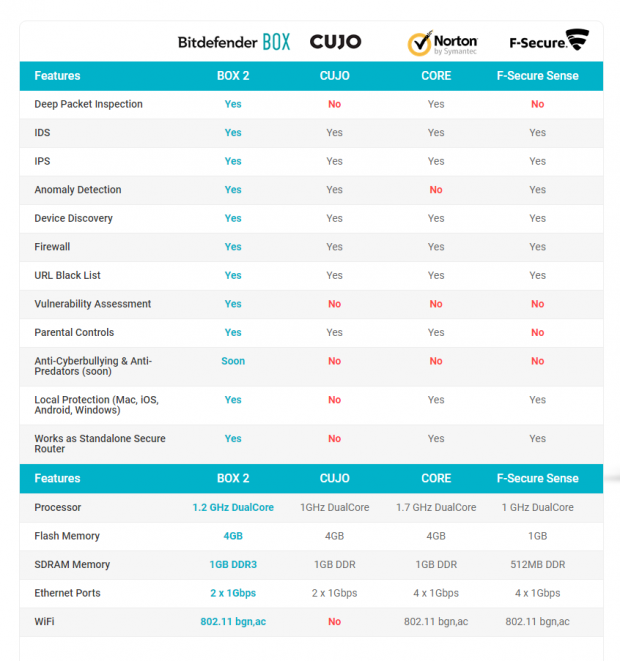 BOX 2 is beast in comparison, increasing the CPU up to a dual-core chip at 1.2GHz (300% faster, double the cores). RAM goes up to 1GB, flash memory up to 4GB, 802.11ac MiMo Wi-Fi, and 1Gbps of throughput. BOX 2 is a serious upgrade from BOX 1, with specifications magnitudes better than its predecessor.
Bitdefender BOX: What Does It Protect You From?
The Bitdefender BOX protects you from quite a lot on the internet, with all devices physically (or through Wi-Fi) connected to the BOX featuring the following protection:
Web scanning:
BOX checks every website that the devices connected to the BOX protected network access and in case the website is listed as malicious in our cloud database, BOX will block access to it.
On demand Vulnerability Assessment:
BOX offers the option to scan a certain device and check for vulnerabilities. In case the device is found vulnerable, the user
will be notified in the BOX managing app regarding the vulnerability BOX has found (week credentials, outdated firmware, CVE vulnerabilities, etc). This also includes tips on how to address and secure your network, based on the specific vulnerability BOX has identified.
Device detection:
Once a new device is connected to the network protected by BOX, the user will be informed through a notification displayed in the managing app of the BOX and will be asked if he wants to allow the device to be connected to his network.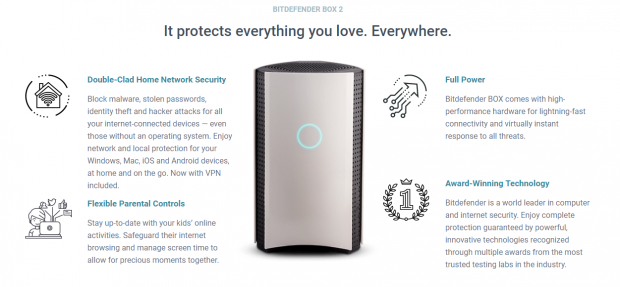 Exploit prevention:
This engine will identify and block exploits through a mechanism similar to other popular IDS solutions in the market. It includes generic signatures to cover a wide array of attacks as well as specific signatures wherever needed. Noting that signature list is constantly expanded.
Anomaly detection:
The anomaly detection engine uses machine learning and cloud correlation to understand how devices should behave under normal circumstances and is able to accurately identify, block and alert upon any malicious activity.
Brute force protection:
This security module blocks forced authentication on devices connected to the BOX protected network.
Sensitive data protection:
This module will identify whenever credit card information or passwords is sent over a non-encrypted connection and block the attempt. The user is free to surf a non-secured website without issues but any attempt to send sensitive information will be redirected to a warning page.
Local Protection:
Bitdefender BOX offers extended protection to all devices connected in the home network and with the help of the Bitdefender Total Security package even outside of it. This also includes VPN brought through Bitdefender Total Security on Windows, Bitdefender Antivirus for Mac on Mac OS, Bitdefender Mobile Security on Android and iOS.
There's An App For That: Software Security Suite
There's no better convenience than by controlling the Bitdefender BOX than from your smartphone? All you need to do is download Bitdefender Total Security and install it on your connected devices, download the Bitdefender Central app to your smartphone, and you're mobile security is ready.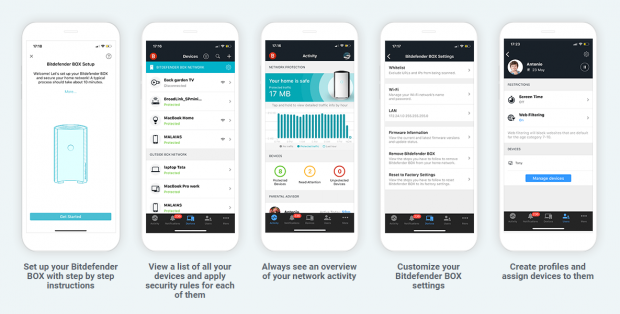 From the Bitdefender Central app you can remotely run scans, locate devices, remotely lock them, and even wipe the information from them if it's an emergency. Once the action is complete, you'll receive a notification on your smartphone letting you know what happened.
There's even a VPN module included in the Bitdefender Total Security software that acts like a tunnel between your device, and the network you're connecting to. This ensures that you're accessing your important data over a secure connection with bank-grade encryption, hiring your IP address on-the-go.