Bungie has plotted Destiny 2's DLC roadmap well into next year.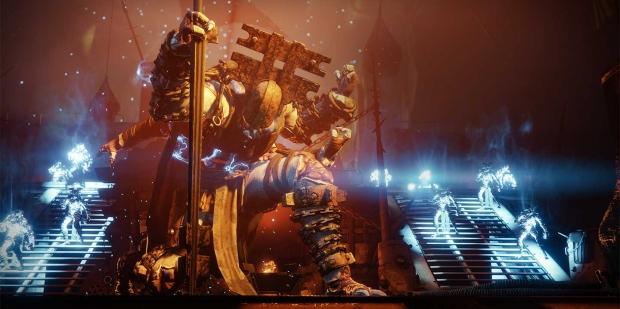 Today marks a big occasion for Destiny 2. Bungie finally announced Forsaken, the game's big The Taken King-style expansion, which brings a massive core systems overhaul while adding in new endgame content, weapons, supers, and more. And it seems this $40 expansion will be the new baseline for Destiny 2's future content rollouts.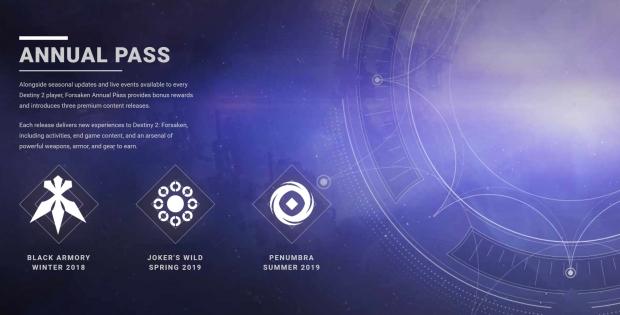 Forsaken has an optional $30 Annual Pass attached to it that unlocks three "premium content releases" that will "deliver new experiences to Destiny 2: Forsaken, including activities, end game content, and an arsenal of powerful weapons, armor, and gear to earn." Assuming these bits of content are priced at $10 they may not be actual expansion-sized affairs but instead piecemeal modules of sorts that beef up Forsaken. Or they could indeed be bigger DLC akin to Bungie's original Comet idea (I'm betting they aren't, though, despite the Eververse raking in untold amounts of money via microtransactions).
The three DLC packs and their respective releases dates are:
Black Armory (Winter 2018)

Joker's Wild (Spring 2019)

Penumbra (Summer 2019)
Destiny 2's new Forsaken expansion launches September 4, 2018 for $39.99 on PS4, Xbox One and PC.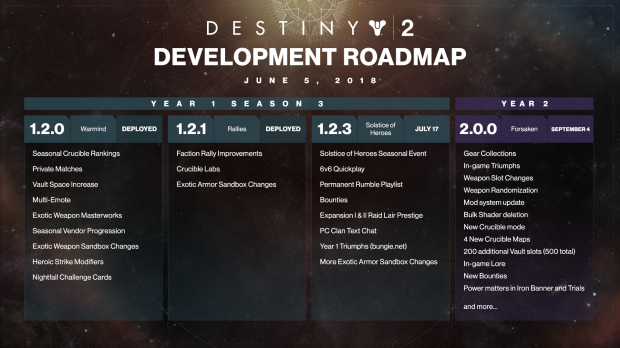 Check below for more info on Forsaken:
"Following years of strife, what remains of the Reef has fallen to lawlessness. You and Cayde-6 are sent to personally investigate the recent unrest. Upon arrival, you soon discover the most-wanted criminals in the Prison of Elders have organized an escape. Beyond the Vanguard's authority, you'll pursue these fugitives deep into the Reef. Explore new regions, awaken new powers, earn powerful weapons, and uncover long lost Awoken secrets. The hunt is on."
Hunt Down the 8 Barons and their Crew

Two New Destinations: The Tangled Shore and The Dreaming City

A Brand-New Raid

Introducing Gambit, a 4v4 Competitive PvE Mode

Wield New Powers with Nine Additional Supers

Collect New Exotic Weapons, Armor, and Gear

All-New Weapon Archetype, Legendary Bow

New Story Missions, Adventures, Destination Activities, and more