AMD is currently in the process of launching their new flagship X470 chipset with the Pinnacle Ridge-based Ryzen 2000 series processors, but now a mysterious Z490 chipset has been teased.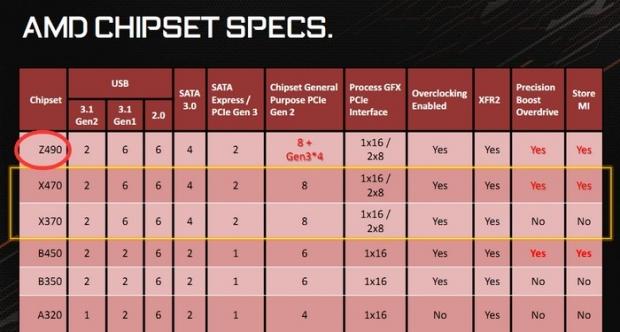 VideoCardz reports on a slide that was allegedly posted on the PCEva forums, where it shows a presentation of GIGABYTE's AORUS X470 motherboards, showing the differences between some of the chipsets and then the mysterious Z490 (not X490, but Z490) chipset.
The purported Z490 chipset is identical to the X470 chipset except that it rocks 4 additional PCIe 3.0 lanes, something that would be great for multi-GPU users who want PCIe lanes for precious graphics cards, and multiple super-fast NVMe M.2 SSDs that need PCIe lanes to drive their insane speeds.
If this turns out to be true, we'll report on it as it breaks. Interesting stuff, though.