GTC 2018 - NVIDIA kicked off their annual GPU Technology Conference by unveiling the new Quadro GV100 graphics card, as well as the refreshed Tesla V100 with 32GB of HBM2, but the new DGX-2 was the ultimate unveil.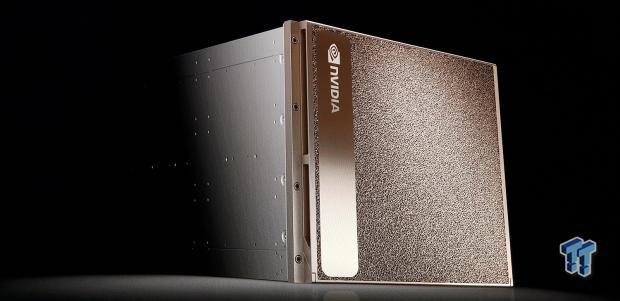 NVIDIA's new DGX-2 packs a huge 16 x Tesla V100s with 32GB of HBM2 each for a total of 512GB of HBM2. The entire unit consumes 10kW of power, is capable of a huge 2 PFLOPs of compute performance and weighs 350 lbs.
Each of the Tesla V100s with 32GB of HBM2 are connected through NVIDIA's new NVSwitch technology, which packs an insane 14.4TB/sec of bandwidth.
Why did NVIDIA unveil the DGX-2? Well, there are plenty of use cases for these super-powered machines for AI, deep learning, and so much more that the previous-gen DGX-1 and its 8 x Tesla V100s with 16GB of HBM2 each. Bumping up to 16 x Tesla V100s with 32GB of HBM2 is a huge deal, as is the massive amounts of memory bandwidth.
I reached out to Patrick Moorhead, President & Principal Analyst, Moor Insights & Strategy, who said: "NVIDIA combined Volta architecture with the new, state of the art platform improvements and created DGX-2. The biggest feature in DGX-2 is the new NVSwitch, which enables memory sharing of 16 GPUs. This improves performance as well as reducing latency as the GPUs don't need to go to main memory as much".