Facebook is getting hammered from all directions right now, and right off the news that Cambridge Analytica has been using Facebook data to influence elections around the world, Facebook stock has dipped by a huge $50 billion in just two days.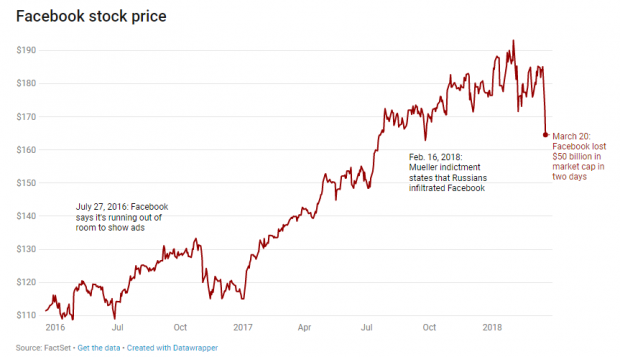 Cambridge Analytica had data on some 50 million Facebook users and since the news emerged, the social networking giant has experienced its largest two-day stock price decline, ever. Facebook stock was steady at $185 before the CA news broke, dipping down to $168 at the time of writing, wiping away $50 billion. 129 million shares of Facebook shares were circulated in these two days, which is massive.
There has been a steady ramp up to this news, with Facebook CEO and founder Mark Zuckerberg making an announcement of yet more changes to Facebook's News Feed. Zuckerberg announced that the changes to the News Feed would turn more people away from advertisement and more with connecting people together again. The algorithm change was huge, affecting everyone... including TweakTown.
This would've had investors eyeing the social network up and down, as it meant less advertising ROI for companies, and thus a reason to sell FB stock, or at least spread their investments. The company has also been hit multiple times with political issues with Facebook being infiltrated by Russian accounts that reportedly supported Donald Trump before the 2016 elections.
Cambridge Analytica was then the final nail in Facebook stock coffin, driving the largest two-day stock price plunge ever. Mark Zuckerberg and Facebook COO Sheryl Sandberg were missing from a recent staff meeting about Facebook's relationship with Cambridge Analytica, which speaks volumes.
It seems Zuckerberg, the man who has connected billions of people and has re-tuned Facebook away from businesses and advertisement (as well as blocking cryptocurrency ads) along with its Chief Operating Officer, are afraid of the mess with Cambridge Analytica.
Furthermore, Facebook is being investigated by New York and Massachusetts attorney generals over the Cambridge Analytica scandal, with New York Attorney General Eric Schneiderman telling The Verge: "Consumers have a right to know how their information is used - and companies like Facebook have a fundamental responsibility to protect their users' personal information. Today's demand letter is the first step in our joint investigation to get to the bottom of what happened. New Yorkers deserve answers, and if any company or individual violated the law, we will hold them accountable".
Attorney General Maura Healey of Massachusetts told The Verge: "As attorney general, my job is to protect consumers in Massachusetts. Companies that control huge amounts of personal data have a legal obligation to guard against theft and misuse of that information. We are investigating to find out how and why this data was shared by Facebook and whether the appropriate steps were taken to protect it against misuse and manipulation".