AMD is improving eSports gaming performance and making things smoother with their new initiative that they've called Project ReSX (Radeon eSports Experience).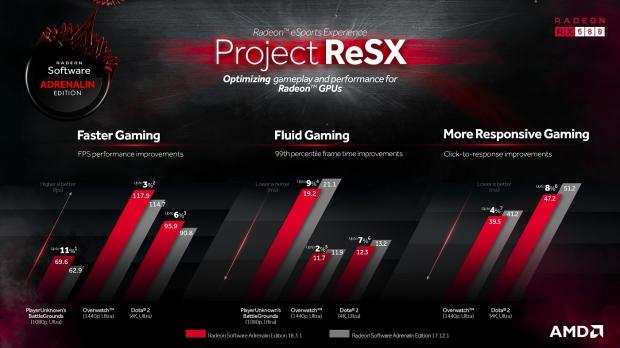 The company has been working behind the scenes with the game developers of big eSports games like PlayerUnknown's Battlegrounds, Overwatch, and Dota 2 to offer not just more performance, but smoother performance and more responsive gaming.
The company has compared their older RSAE 17.12.1 drivers against the new RSAE 18.3.1 drivers that include the Project ReSX improvements, where the performance of Battlegrounds increases by 11%, and between 3-6% for Overwatch and Dota 2, respectively.
We do indeed see between 2-9% improvements to the 99th percentile frame time, and between 4-8% improvements to the click-to-response in Overwatch and Dota 2.
Grab AMD's new Radeon Software Adrenalin Edition 18.3.1 drivers here.