With tens of millions of gamers using Steam daily, it's always interesting to see just how many gamers use NVIDIA or AMD graphics cards, and the same for whether they use AMD or Intel processors.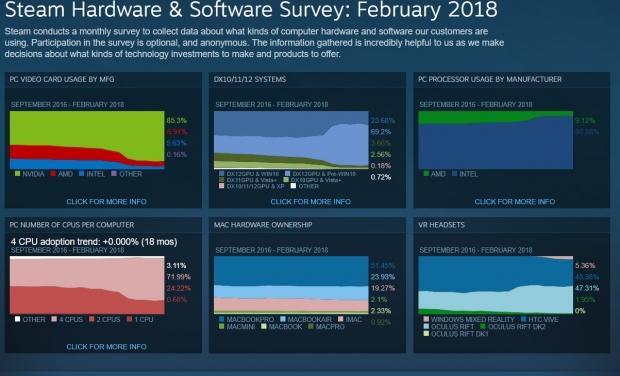 According to Steam's new February 2018 hardware survey, NVIDIA and Intel utterly dominate gamers' PCs. A huge 85.3% of Steam gamers use an NVIDIA GeForce graphics card while just 8.9% of gamers use an AMD Radeon. AMD has nearly the same percentage of the CPU market with just 9.1% of gamers using AMD processors while a huge 90.88% use Intel CPUs.
The most popular graphics card used on Steam is NVIDIA's GeForce GTX 1060, which is followed by three more GeForce cards: the GTX 750 Ti, GTX 960, and GTX 1050 Ti.