Battlegrounds was undeniably the biggest game of 2017, but now developer PUBG Corp have released some statistics behind their Battle Royale smash hit.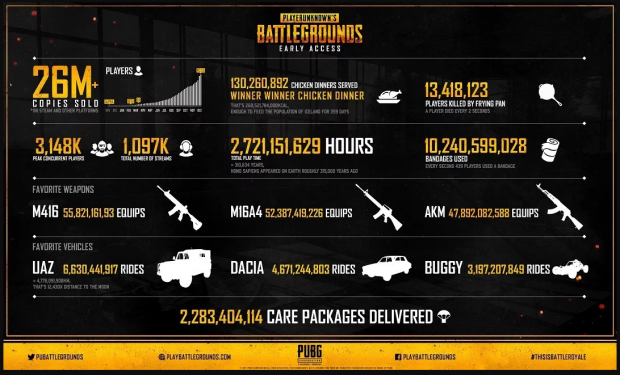 Since PUBG's release early last year onto Steam Early Access, Battlegrounds has broken all of Steam's concurrent player records with it recently smashing 3.15 million concurrent players and over 26 million copies sold between the PC and Xbox One versions of the game.
PUBG Corp's infographic states that players have spent over 2.7 billion hours in the game, have scored over 130 million chicken dinners,r and broken things down into many other interesting facts. We know that 13 million PUBG players have been killed with frying pans, while over 10 billion bandages have been used.
Battlegrounds has made over $712 million so far, so we shouldn't expect too much longer to go pass before the game makes it over the huge $1 billion milestone.