The Last Jedi will bring tons of new Battlefront II content
'We're trying to build something people will engage in for many years to come.'

Published Tue, Nov 28 2017 4:30 PM CST
|
Updated Tue, Nov 3 2020 11:53 AM CST
Despite Battlefront II's hotly contested live services, EA's Chief Financial Officer says the game will get a massive array of new content to accompany The Last Jedi's release in theaters. Just how much will EA bring to the table? More content than any of their games has ever seen--or so the CFO says.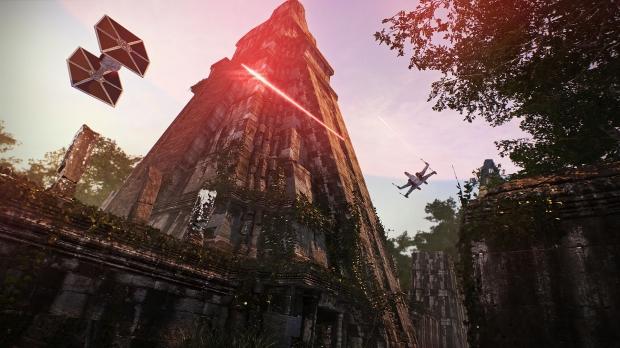 During Credit Suisse's 21th Annual Technology, Media, and Telecom Conference, EA CFO Blake Jorgensen discussed not only the future of Battlefront II but the major ethos that drives the publisher. Spoiler: it's online-based live services, microtransactions, and games that last for six years, not six weeks.
"The great news is this is one of the best games we've ever built. We're hearing that from the players who are actually playing the game and engaging every day. The day-over-day retention in Battlefront II is almost better than we've seen in any of our games, and we'll be adding in the next couple of weeks more content than we've ever added in a game before. And the reason for that is the content comes around the Disney movie, and as [The Last Jedi] comes out in theaters there'll be all sorts of new gameplay that comes around that," Mr. Jorgensen said during the event.
With the original Battlefront EA admitted that it rushed the game out to coincide with The Force Awaken's release in theaters. This, accompanied with the consumer-dreaded multi-tiered season pass model, caused the publisher lots of flak. It's interesting to note that Battlefront II's controversial microtransactions wouldn't have been implemented if Battlefront wasn't so disliked; the season pass model was a chain reaction that pushed EA to the "free content paid for by in-game purchases" policy that has ultimately backfired in the public eye.
Mr. Jorgensen went on to highlight EA's ultimate goal, that the publisher is listening to all feedback and will change things accordingly, and what gamers should expect from the gaming titan in the future (maybe with Respawn's new Star Wars game?). Again this isn't a surprise as EA typically makes billions every fiscal year, a lot of which is powered by live services like FIFA Ultimate Team.
"We're learning, we're listening, we're reacting and we're doing exactly what we'd hope to do to continue to try to make this a great game. And a way to learn on how we may roll out live services in other games going forward," he said during the event.
"Remember it's no longer you ship a game and it's done; you ship a game with a live service and feed that live services with weekly and monthly content to keep bringing people into the game so they can enjoy it. A game is no longer a six-week experience, but a six-year experience. And we're trying to design games that allow people to go deep into the things they love and play them for a very long period of time."
"We're trying to build something people will engage in for many years to come."
Related Tags