Tesla's new electric semi is the future of trucks
Tesla unveils its next-gen electric semi truck, big enough that it lets drivers stand up in the cab.
Published
2 minutes & 33 seconds read time
Tesla has officially unveiled its electric semi truck, something that goes by the simple name of Tesla Semi. The new Tesla Semi truck is a super-tall big rig that has Tesla's infamous minimalistic design. The side mirrors are the only thing on the Tesla Semi that protrude from the side of it, alongside the wing-like sensor array on the rear of the truck.
Tesla CEO and real-life Tony Stark, Elon Musk said that Tesla Semi has been "designed like a bullet".
Tesla Semi is capable of a 500-mile range, with a ton of built-in technology like Enhanced Autopilot. There are plenty of the usual big rig-specific features like jackknifing prevention, sensors for blind-spot detection and data logging for fleet management. Tesla has said that its new Semi truck will bne going into production in 2019, which isn't too far away - but with giants like Toyota and others starting in the electric truck business, Tesla needs to nail it quickly.
The new Semi truck will debut alongside Tesla's new super-fast charger, which will provide 400 miles of range in 30 minutes and is called Megacharger. Comparing this to other electric trucks like Daimler's E-Fuso Vision One which can only take a 220-mile trip, Tesla has it in the bag with Semi, and even more so when you take into consideration the super-fast Megachargers.

Tesla's new Megachargers will also be powered by solar panels and will be built in-house by Tesla.
Now, the new Enhanced Autopilot is one of the more exciting parts for me, as it's capable of automatic emergency braking, automatic lane keeping and lane departure warnings. There's also jackknife protection, sensors and cameras that should reduce blind spots to Semi.
Inside of the Tesla Semi we have a much bigger cabin for the driver, something that's reportedly large enough for a fairly tall person - 6'3" and his head "didn't hit the ceiling". There are steps on either side of the new electric truck so that you can get into it, just like any other big rig, while there's a centered driving position... a world's first, but please correct me if I'm wrong in the comments below.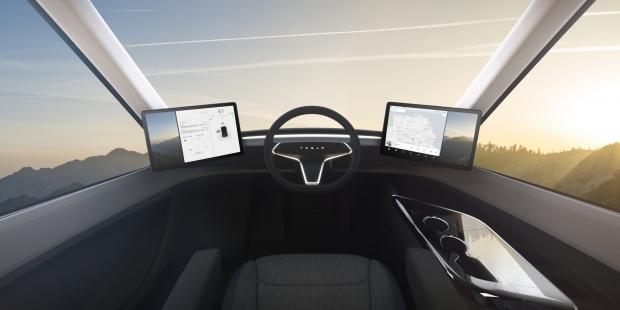 Once truckers are inside of the Tesla Semi truck, they will have two Model 3 displays flanking the wheel - that remember, is in the center of the dash. There will be loads of information on-tap, with the screen on the right displaying details like speed, mileage, battery status, maps, climate control, music, and more) while the truck-specific information is displayed on the left.
Other than the display and the steering wheel, there are levers for the lights and wipers - but that's it. It's an incredible change, a compete breath of very fresh air for the trucking world.
Tesla did say that their Semi truck would drive like a sports car, with the new Semi vehicle capable of 0-60 in 5 seconds when it's empty, and 0-60 in 20 seconds when it's hauling 80,000 pounds of cargo. I've never driven a big rig before, but even I know that's bloody impressive.
Elon Musk has said that Tesla Semi will not break down for 1 million miles, which is another world-first.
There is no gear stick in the Semi truck, unlike big rigs and their elaborate gears ticks. Truckers will just have to sit down, put their seatbelt on, and push down on the accelerator. Easy.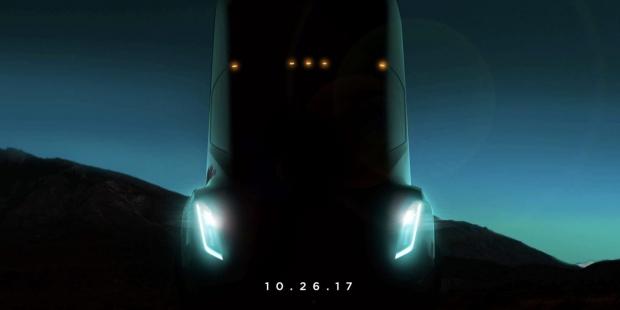 Inside, the new Semi truck is powered by 4 x Tesla Model 3 motors with modified gearing ratios over the passenger car.
Going into the future, Tesla could truly change the entire trucking business with trucking companies adopting their new Semi truck. The new electric vehicles are much more efficient, more spacious, faster, have great autonomous driving technology, and 1 million miles of guaranteed driving without failure.
Your move, trucking companies.
Related Tags