Sony: microtransactions mitigate console cycle risk
Risks of console hardware sales are mitigated by the steady streams of revenue that network content such as PS Plus, digital sales & mTX bring in.

Published Thu, Nov 2 2017 5:30 PM CDT
|
Updated Tue, Nov 3 2020 11:53 AM CST
Typically, games-makers like Sony and Microsoft sell console hardware at a loss simply because these devices are gateways into the lucrative world of digital services such as microtransactions, subscriptions, DLC, etc. Sony has carefully situated the PlayStation 4 as the nexus of its digital network offerings, and the company affirms these solutions help mitigate the risks of a console cycle.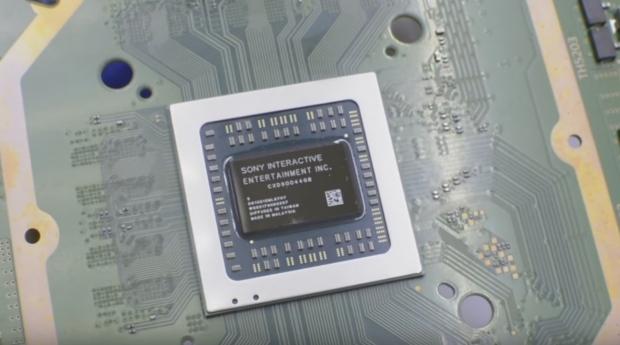 The games industry has changed. Thanks to free content updates, consumers are now spending more time in (and money into) online-based live service games like Overwatch, Destiny, and PUBG, and publishers--as well as platform holders like Sony and Microsoft--are all too eager to reap the billion dollar benefits of the market.
Sony's Games and Network Services segment, which includes PlayStation hardware and software as well as subscriptions, PS Plus, and a retinue of other subscriptions, is a huge revenue driver for the company (the segment earned 21% of Sony's total fiscal Q2'17 sales and 26% of total quarterly OI). Sony is also selling games directly to consumers on its PlayStation Network platform, and digital sales have grown steadily. As a result, Sony has affirmed the network segment is mitigating a number of key risks for the console cycle.
"PlayStation is a console, that's the main thing, the foundation. With the cycle of the console, the performance business results may vary along the axis of the console. 2 trillion yen was the sales for this fiscal quarter, more than half of that most likely will come from Network and for this fiscal year the unit sales are approaching the level of last year. There are mitigating factors that affect the console cycle so far," Sony Chief Financial Officer Kenichiro Yoshida said during the company's second quarter earnings call.
"For one thing, the business model used to be B2B royalty model, but now it has shifted to a direct-to-consumer model."
"And in our business, main access to hardware is important, but rather than hardware, the number of users is getting more important--monthly average users, numbers of PS Plus subscribers, etc. And also how much time are they putting into this console--the ARPU? So the axis seems to be shifting from hardware to userbase."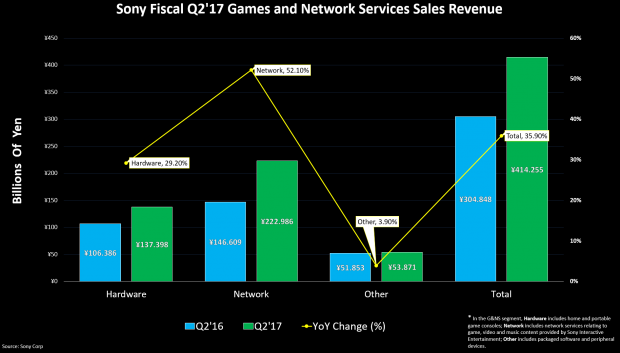 Sony's CFO went on to discuss one of the more contentious points in gaming right now: microtransactions. Of course the games-maker can't ignore in-game purchases--they'd be fools to do so--and admits that digital mTX sales are increasing over time.
"Thirdly, there's a change of revenue cycle. Clearly, in-game sales, for example: after the customer's purchased the disc or after they download the software, then they can purchase items or offerings. So the in-game sales proportion is increasing."
"With all these points, the console cycle is being mitigated by these factors."
On the same coin, however, gamers are indeed buying PlayStation 4 consoles in droves--in fact console and handheld hardware sales are up 29% year-over-year in Q2 to $1.03 billion ($137.4 billion yen). But of course Network is the main driver, earning 62% more sales revenue than hardware.
Ultimately I think these quotes tell me something very specific about Sony's future plans..but that'll have to wait for another time. And no, I don't just mean microtransactions.
Related Tags