Switch's new Nintendo arcade games are too pricey
Just give us VirtualConsole already.

Published Tue, Sep 26 2017 2:18 PM CDT
|
Updated Tue, Nov 3 2020 11:54 AM CST
Nintendo is pulling another classic Nintendo move by greenlighting the release of overpriced, non-Virtual Console games on the Nintendo Switch.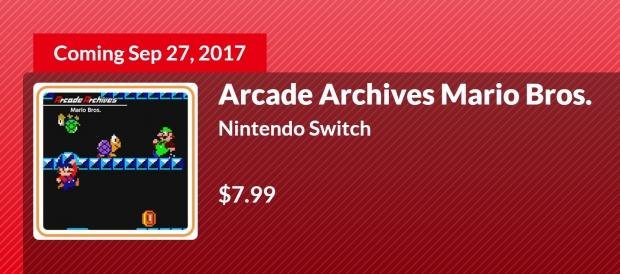 I've wanted classic NES, SNES, N64 and GBA games on my Nintendo Switch for quite some time, but the company seems to adamantly refuse to bring its Virtual Console service, which sells beloved classic retro games a la carte, to its newest transforming handheld-and-console Switch platform. I've argued that Nintendo is missing out on potential millions every month Virtual Console isn't available, and that the NES and SNES Classic Edition systems are the main culprit. But now the console-maker is just adding insult to injury by greenlighting the release of expensive games that no one really asked for on the device.
Any Switch owner will have noticed the eShop's classic fare consists not of golden-age NES sidescrollers or shoot-em-ups, but of "Arcade Archives" NeoGeo games sold for $7.99 a piece. Most of these games are two-player titles. That's not a mistake. Although Nintendo says the Switch is a "home console first and foremost," they really want gamers to play with others. Fast-forwarding to today and we have a new range of games in Hamster's Arcade Archives offering, which is another series of classic games that's once again devoid of the games Switch owners like myself really want to play--Super Mario Bros 3, Chrono Trigger, the Castlevanias and Final Fantasies. In their stead we have two-player versus games that simulate old 1980s arcade cabinet experiences. That's a neat sentiment, don't get me wrong, but it's not a I'll-pay-$8-to-relive-coin-op-arcade-moments kind of sentiment (at least to me).
The Arcade Archive series, which includes arcade versions of games like Ice Climber, Balloon Fight, Excitebike and Wrecking Crew, will all be priced at a steep $7.99 a piece. This is the same price of the NeoGeo games which are also part of the Arcade Archives banner, of course, but it's also the price of a single Super Nintendo Virtual Console game on Wii U or 3DS/2DS, which adds a considerable perspective to the value proposition.
What's more is that some these games might be the arcade versions of the free NES games Nintendo will give subscribers of its $20 a year Switch Online service. Nintendo says the free Switch Online games will be NES titles with online multiplayer baked in, and the three highlighted games were Super Mario Bros. 3, Balloon Fight, and Dr. Mario.
All in all I just feel Nintendo is side-stepping a service that every Switch owner wants. The reasons for this remain unclear, but I've surmised it has a lot to do with its lucrative mini-consoles that reportedly use recycled Wii U controller components and are confirmed to use cheaper hardware to make a quick buck.
Just give us Virtual Console games already, Nintendo, and you'll have all the gold coins you could ever want.
The following Arcade Archive games will be released on the Switch:
Vs. Super Mario Bros.
Vs. Balloon Fight
Vs. Ice Climber
Vs. Pinball
Vs. Clu Clu Land
Vs. Urban Champion
Vs. Wrecking Crew
Vs. Excitebike
Punch-Out!!
Related Tags