AMD Ryzen Threadripper 1900x already on sale?
Anyone visiting India?
Published Mon, Aug 28 2017 6:18 AM CDT
|
Updated Tue, Nov 3 2020 11:54 AM CST
AMD's 8-core/16 thread Ryzen Threadripper 1900X is due to go on sale August 31, well, at least it's supposed to. It appears as if India's leading PC hardware store PrimeABGB, have jumped the gun and began selling the AMD Ryzen Threadripper 1900X ahead of its offical release date.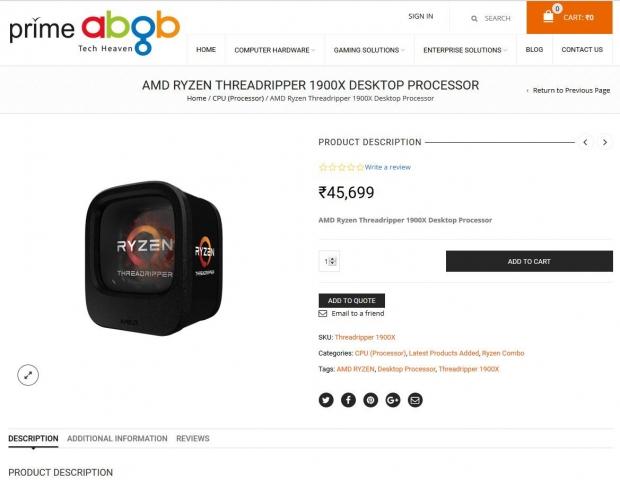 PrimeABGB have listed the AMD Ryzen Threadripper 1900X at INR 45,699, this is equivalent to approximately $715 USD, a significant increase on AMD's MSRP of $549. However, PrimeABGB also list the 1920X at INR 65,488 ($1,024USD) compared with $799.99 MSRP. The 1950X sees a similar mark-up at INR 82,008 ($1,283USD) compared with $999.99 MSRP.
The AMD Ryzen Threadripper CPU series has already seen the release of the 1920X and 1950X back on August 10, are Intel worried? We think so.

Related Tags