Blizzard dominates PC gaming in July
Blizzard titles take 5 of the 20 spots in July's top 20 most-played PC games list.

Published Wed, Aug 9 2017 11:30 AM CDT
|
Updated Tue, Nov 3 2020 11:54 AM CST
Blizzard's slate of games is becoming more and more enviable as the company rolls out new content that's attracting millions of players across North America and Europe.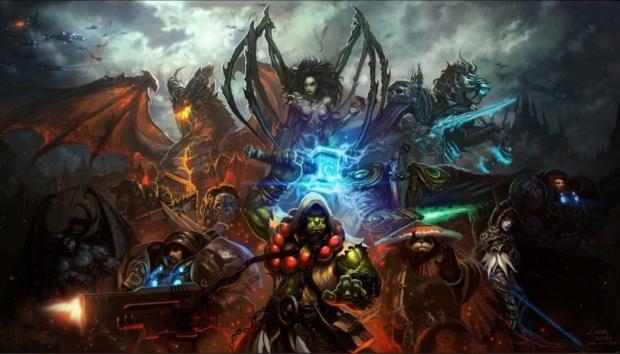 Blizzard games like Hearthstone, World of Warcraft, and Overwatch are among the top 20 most-played PC games in July in North America and Europe, analyst firm Newzoo reports. According to the findings, Blizzard games took five spots in the top 20 list, and three spots in the top 10 list.
Blizzard's massively lucrative and popular card game Hearthstone topped the publisher's other games at #3, with the still-popular World of Warcraft coming in at #6 and the hugely engaging shooter Overwatch ranked at #7. Diablo III jumped onto the list at #12 to dethrone Rainbow Six: Siege thanks to the new Necromancer DLC and free content updates.
Blizzard's Heroes of the Storm MOBA was farther on the list at #20.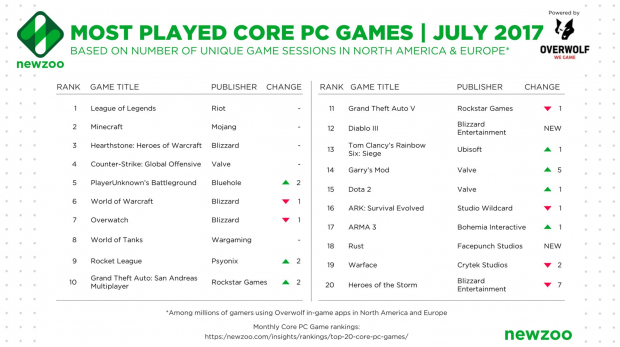 These findings clearly align with Blizzard's current yearly plan to roll out more digital content updates to its slate of games instead of releasing a brand new title. The company says it will not release a new game in 2017 and will instead provide more value to current titles like Overwatch, World of Warcraft, Diablo III and Hearthstone, which in turn spins the engagement-to-monetization flywheel formula and leads to more earnings.
In fact, Blizzard games dominated Activision's earnings for the fiscal Q2'17 period. Games like Hearthstone and Overwatch remain one of Blizzard's most popular and lucrative properties, and helped the company pull in $556 million in net revenues in the three-month period.
The future is also bright for Blizzard. Company CEO Mike Morhaime says the new IP pipeline is "better than ever", asserting that key incubation teams are working on a number of new ideas and IPs.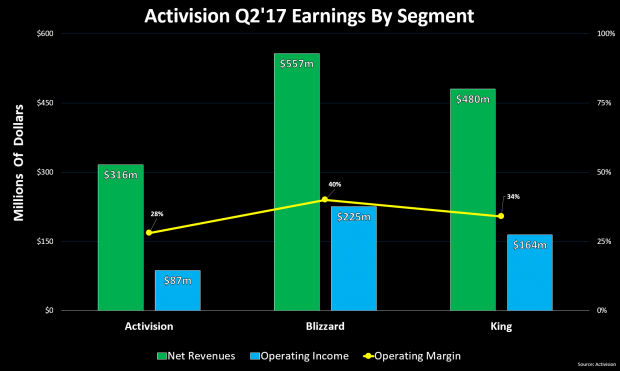 Despite its plans for the future, Blizzard's core focus will be on the here and now--that is, after all, where the money is.
"First and foremost I'll say the bulk of our focus continues to be supporting our existing players and releasing high quality content for our existing games," Mr. Morhaime said during the quarterly earnings call.
"This quarter is a great example of that approach. We delivered a consistent slew of updates and new content onto all of our games, and that has driven record engagement even without a new game launch."
"We're also really excited about the future. In addition to supporting all of our live games we're committed to incubating new initiatives. We're also thinking about different platforms, especially globally. In terms of new IP, our pipeline is in a better position than ever before in our history," Morhaime affirmed, aligning with our previous reports on secret Blizzard projects.
Related Tags