Rainbow Six: Siege loot boxes: here's what to expect
Ubisoft adds more value to its live service-powered shooter with random cosmetic loot boxes.

Published Wed, Jul 12 2017 10:30 AM CDT
|
Updated Tue, Nov 3 2020 11:54 AM CST
Ubisoft has made good on its promise to bring loot boxes to Rainbow Six: Siege.
Rainbow Six: Siege's loot crate-like Alpha Packs are gradually being introduced with new live updates. These Alpha Packs only contain cosmetic rewards and can't actually be purchased with the game's R6 premium currency, so you can't actually spend real money to directly unlock them, as we revealed last month. However, you can spend R6 currency to get more Renown, so there is an indirect path.
Alpha Packs can only be unlocked with Renown, which is the game's experience-like currency doled out at the end of every match. Gamers can earn these packs in two ways: the game may reward them randomly to players at the end of matches, or players can spend their Renown to directly unlock packs. Alpha Packs contain skins and other cosmetics to add more flair to player Operators. To get an idea of what's included in the Alpha Packs, YouTuber Jytus opens up 200 packs in the video above.
"We'll also thank players for their time spent on the game. You play, and we give you some loot packs thatn you can open for free," an Ubisoft Montreal dev affirmed.
"So the more you play, the more you get."
Here's how Alpha Packs work, courtesy of Redditor epi.
You will gain an increased chance for completing a match (win or lose). You gain a minimal amount for losing, and you only roll for a pack when you win a match.

If you roll for a pack and lose the roll, your chance rating is carried over and compounded with the chance you get from the next match.

Essentially, you continue to increase your chance rating until you win an Alpha Pack, and you can only roll to win an Alpha Pack after winning a match.
The alpha packs are being rolled out to multiple ports of the game via Version 2.2.1 instead of a simultaneous release.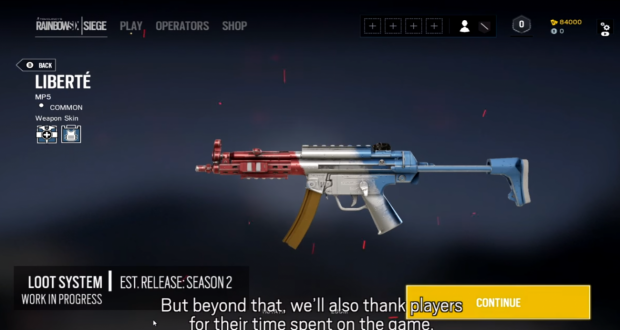 Related Tags