Ubisoft will give Rainbow Six: Siege's engagement tactics a shot in the arm by adding loot boxes.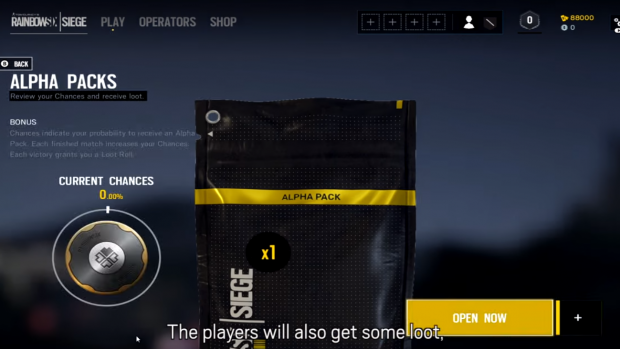 "The more you play, the more you get."
Rainbow Six: Siege is getting loot boxes quite soon, but you won't be able to buy them with R6 premium currency--you'll have to earn them by playing the game. The game's loot boxes are called Alpha Packs, and contain randomized cosmetic items and weapon skins to add flair to a player's operator character.
Alpha Packs can be unlocked in two ways: players can earn them randomly at the end of matches, with every successive match boosting the chance of an Alpha Pack drop, or buying them outright with Renown, the game's experience point currency used to unlock in-game content. Alpha Packs cannot be purchased directly with the game's digital premium R6 Points currency, which cost real money. However, players can buy Renown with R6 Points.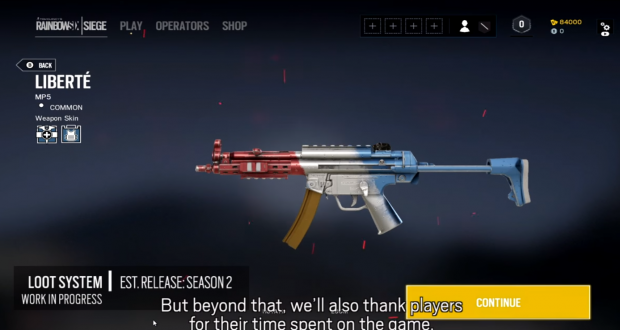 Ubisoft currently allows players to purchase weapon skins directly with premium R6 Points, but the Alpha Packs deliver random contents of varying grades.
Here's how Alpha Packs work, courtesy of Redditor epi.
You will gain an increased chance for completing a match (win or lose). You gain a minimal amount for losing, and you only roll for a pack when you win a match.

If you roll for a pack and lose the roll, your chance rating is carried over and compounded with the chance you get from the next match.

Essentially, you continue to increase your chance rating until you win an Alpha Pack, and you can only roll to win an Alpha Pack after winning a match.
"We'll also thank players for their time spent on the game. You play, and we give you some loot packs thatn you can open for free," an Ubisoft Montreal dev affirmed.
"So the more you play, the more you get."
Ubisoft announced this feature months ago, but has now implemented Alpha Packs in the latest version 2.2.1 update on the game's technical test servers (TTS).
Alpha Packs will undoubtedly surge DAU and MAU counts simply by rewarding players for playing more matches of Rainbow Six: Siege. Ubisoft has refined its monetization tactics to a fine art, and as a result all of its new games will have live operations in some fashion. This means for Ubisoft, the microtransaction-fueled strategy is here to stay, accompanied with the resultant free content updates.
Ubisoft has enjoyed tremendous success with its engagement monetization tactics, which it defines as PRI, or Player Recurring Investment.
Ubisoft's digital PRI has grown steadily since its shift towards online-based content: last fiscal year the publisher earned 17% of its total revenue from PRI, or $273.7 million, driven by strong earnings from its live games such as Rainbow Six: Siege, Ghost Recon Wildlands, The Division, and For Honor
Ubisoft predicts that PRI will only go up, and forecasts that 25% of its FY2019 revenues will be made from microtransactions, expansions, and add-on content.
This isn't the last time we'll see Ubisoft employ similar tactics to its live-powered games, and it'll be interesting to see how Alpha Packs affect daily and monthly active users on all platforms.