Xbox Games Pass may come to PC
Microsoft could offer a PC version of its new Game Pass subscription.

Published Mon, Jun 5 2017 7:18 AM CDT
|
Updated Tue, Nov 3 2020 11:55 AM CST
Xbox division head Phil Spencer expresses interest in making a Game Pass service for Windows 10 PCs.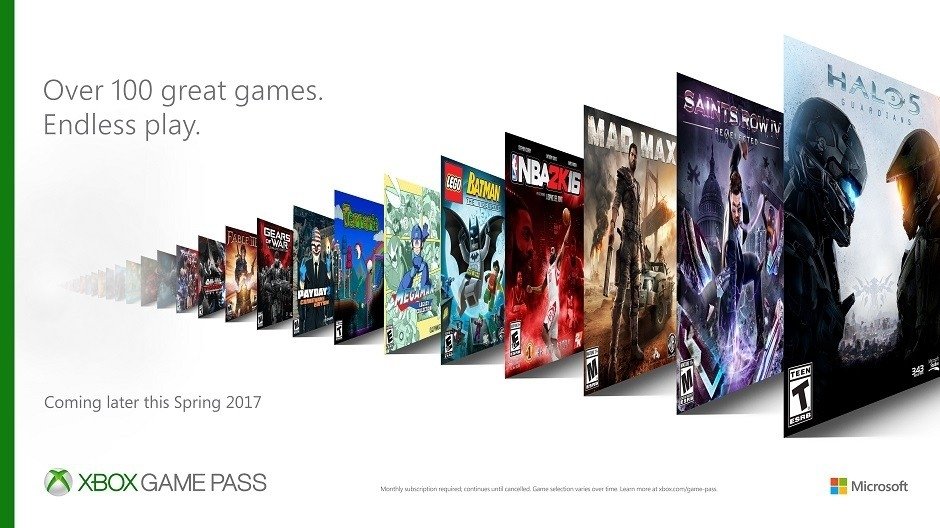 Microsoft recently launched its game-changing Xbox Game Pass subscription service, which offers subscribers unlimited access to a rotating catalog of Xbox One and Xbox 360 games. At its core, Xbox Game Pass takes the best from Sony's failed PlayStation Now venture with its catalog of backward-compatible Xbox 360 games and EA's EA Access model, which offers newer and older titles from the publisher's lineup. Xbox Game Pass games are downloaded, not streamed, and new content rotates in on a monthly basis somewhat like Netflix and Hulu. Gamers always know what's rotating out, and get the opportunity to buy leaving titles with a discount.
In a bid to revolutionize its content offering and reinforce its new focus on digital content, Microsoft may bring a PC version of $10 a month Xbox Game Pass service to Windows 10 PCs. While Game Pass subscribers can already stream Play Anywhere games from their Xbox One console to Windows 10 PCs, not every PC gamer has an Xbox One.
Phil Spencer wants to remedy this with a "GP on PC" option: "I really want to see us bring GamePass to PC, just need to get the right games in place," Spencer said in a recent Tweet.
It'll be interesting to see if Phil Spencer's team can bring in enough PC titles to facilitate a Game Pass service on the platform, but I suspect that big-name publishers won't be too thrilled about the prospect.
While Activision, EA, Ubisoft and even Bandai Namco love and support Xbox One's backwards compatibility thanks to the influx of new purchases made on old BC titles, these players will be less than thrilled to offer newer current-gen titles ostensibly for free in a subscription service.
Publishers love it when gamers buy titles piecemeal, and typically shun away from subscription models unless they can control all profits, like EA does with its EA Access and Origin Access services.
Sony has recently taken aim at the platform with its plans to integrate PlayStation Now on PC, letting PC users play key PS3 titles.
Of course, Microsoft already has its power plays on PC with its intimate entwining of Xbox on Windows 10 OS, so in terms of long-term potential it already has Sony beat.
Xbox Game Pass - Full Details
"You'll always have something new to play with Xbox Game Pass. For one low monthly price, you get unlimited access to over one hundred Xbox One and Xbox 360 games on Xbox One. Discover and download titles you've always wanted to play or revisit old favorites that you've been missing-all in full fidelity, without any streaming or connectivity issues.

"Experience games from all genres, including everything from action/adventure and family-favorites to hardcore shooters and sports. Love an Xbox One game currently in the catalog and want to own it? Buy it and instantly save 20%, plus get an additional 10% off any Xbox One game add-on while it's in the catalog. With new games added every month, and the option to cancel anytime, Xbox Game Pass is your ticket to endless play.

"Xbox Game Pass is an Xbox One, Xbox Play Anywhere, and Xbox 360 backwards compatibility game subscription for Xbox One; an active subscription is required to play games. The titles and number of games included in the subscription may vary over time, may vary by country, and may not be available in all countries.

"Subscription continues to be charged monthly at the then-current price (subject to change; plus applicable taxes) unless cancelled. Cancel anytime. For cancellation info see www.Xbox.com/accounts. DLC sold separately. Notice before purchase of DLC: If you purchase DLC for a game that is later removed from Xbox Game Pass, or your Xbox Game Pass subscription is terminated, you will need to purchase the game separately to continue using the DLC."
Related Tags