Sony shipped about 60 million PS4s
Sony's PlayStation 4 titan breaks another sales milestone.

Published Sat, Apr 29 2017 9:14 AM CDT
|
Updated Tue, Nov 3 2020 11:55 AM CST
Sony has shipped about 60 million PlayStation 4 consoles across the globe, pushing it farther ahead of its competitors.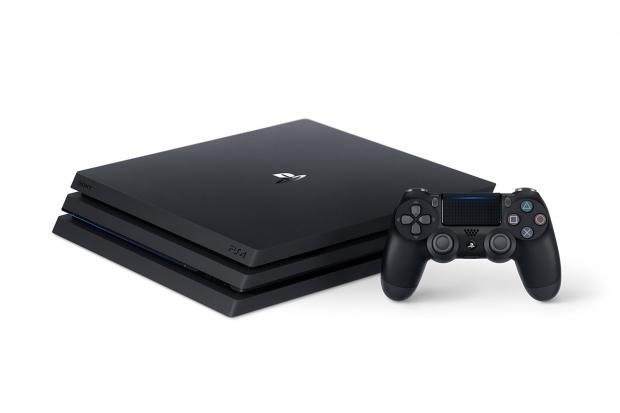 While Sony hasn't officially announced the console's huge sales milestone, a bit of simple math reveals the number. In its recent fiscal year earnings report Sony confirmed it shipped 20 million PS4 consoles from April 2016 to March 2017. Back in May 2016 Sony revealed the PS4 has shipped 40 million consoles to date. So combining the two figures we get 60 million...but that figure isn't 100% exact. Sony's fiscal year ends in March, so May 2016 is part of its Fiscal Year 2016, meaning we're not sure how many of those 40 million PS4s overlap with Sony's total 20 million FY16 sales.
Sony's fiscal data only goes back to FY14 and doesn't include how many PS4 consoles were sold in its Q3-Q4 FY13 (November 2013 onwards) timeframe, so until Sony announces the data, we're not exactly sure how many consoles have been sold globally.

Taking a look at the PS4 sales data, we see the console family sold most of its units in Q3 2016 (Oct - Dec), which matches up with the PlayStation 4 Pro's launch and the PS4 Slim's price cut to $249.
The Japanese gaming and entertainment giant has seen consistent growth in its Games and Network Services branch, which includes PS4 hardware, software, its myriad of subscription-based services, and digital movies, games, and music services. In fact, out of all of its segments, its GNS branch is its top-earner, showing just how important the PS4 is to Sony's continued profits.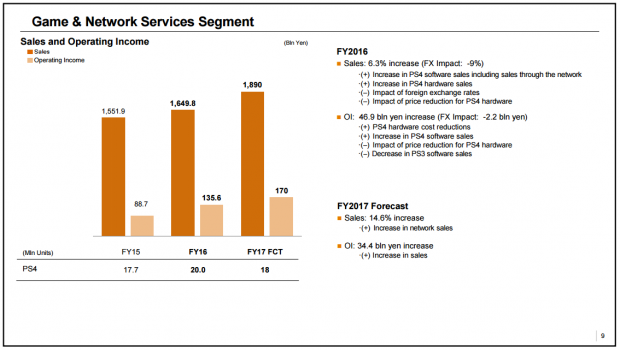 Sony reported total consolidated sales and operating revenue losses of 6.2% year-over-year to $68.17 billion, and operating income losses of 1.9% to $2.58 billion. Sony's Games and Network Services branch, which consists of its PS4 and subscription services, rose by 6.3% ($420.5 million) to $14.79 billion in sales, and earned $1.21 billion in operating income.
Sony's FY2017 guidance reveals it predicts its Games and Network Services earnings to rise by 14.6% ($308.47 million) to $16.94 billion in sales, and $1.52 billion in operating income. It expects to sell 18 million consoles in its current FY2017, down 2 million systems from last year's sales.
This lowered sales guidance indicates Sony won't make any major hardware announcements during the year and will keep its PS4 Pro and PS4 Slim at the forefront.
However, Sony could reveal new high-end PlayStation console sometime next year, with a release in 2H 2018.
Macquarie Capital Securities analyst Damien Thong told The Wall Street Journal that he predicts Sony will launch a new next-gen console in the second half of 2018.
I personally predict that this new console will be Sony's answer to Microsoft's new high-end Project Scorpio console, and will follow Microsoft's three-console iteration cycle and won't stray away from the PS4 family.
Sony cannot afford to simply reset its console generation and forego all of the major benefits its sowed with the PlayStation 4. As such, the new console will likely be a "PS4 Ultra" and sit above its new premium PS4 Pro console that was released last year.
Related Tags