Gamers care most about graphics, shooters reign supreme
According to ESA data, gamers in 2016 cared most about graphics and less about actual content...and spent the most money on shooters.

Published Wed, Apr 19 2017 3:25 PM CDT
|
Updated Tue, Nov 3 2020 11:55 AM CST
The Entertainment Software Association (ESA) just posted up their 2016 games industry trends and sales data, revealing some not-so-surprising results: gamers care more about a game's graphics than its story, and shooters reign above all other genres in game sales.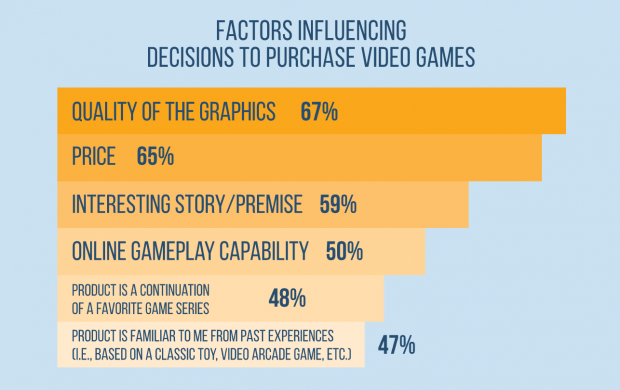 According to ESA's report, most gamers are more likely to purchase a game if it has better graphics regardless of its story--which certainly explains the massive influx of casualized games on the market (looking at you, Mass Effect: Andromeda) Graphics scored 67% as the major deciding factor for purchases, and price was not far behind at 65%. Story/premise sits at just 59%, and online multiplayer/gameplay is below at 50%.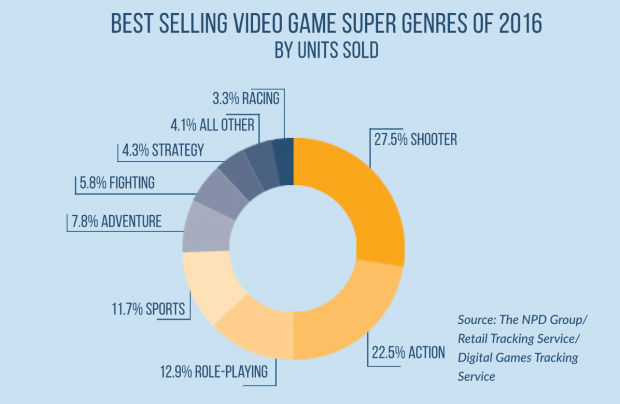 Shooters reigned in the best-selling game genre, making up 27.5% of all games sold in 2016. Action-based games sit at 22.5%, and the RPG genre sits at a paltry 12.9%.
Now we see why Square Enix made Final Fantasy 15 an action-RPG, and why it's doing the same with Final Fantasy VII: Remaster; turn-based RPG gaming is dying out.
Also EA's new focus on action-based gaming certainly makes much more sense now; don't forget EA is merging action, RPG and shooter elements together with BioWare's new IP, which should be like Destiny. Activision has been following market trends for a long time, too, and it's no surprise juggernauts like Destiny and Call of Duty tower above masterpieces like The Witcher 3: Wild Hunt when we take industry trends into consideration.
Even CD Projekt RED is moving away from offline singleplayer RPGs: its new project Cyberpunk 2077 will have a massive, "living and breathing" persistent online-based world with unique multiplayer interactions. Given this newfound focus and more accessible genre basis--true RPG mechanics melded with action and online components with a sci-fi focus instead of medieval fantasy--CDPR expects Cyberpunk 2077 to be much more successful than The Witcher series.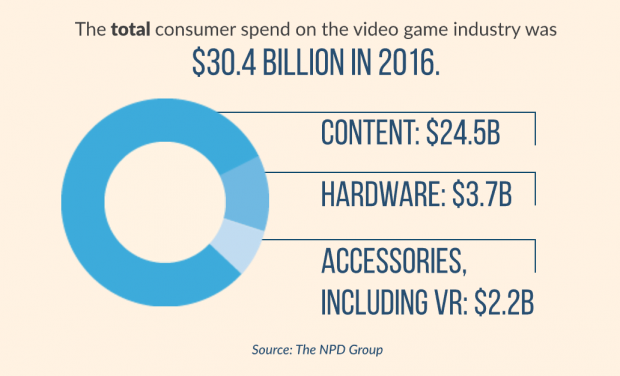 The games industry amassed $30.4 billion in total consumer spend in 2016, with over 80% of that total made up of content and games purchases. Actual gaming hardware (consoles, and possibly gaming PCs and laptops) only amounted to a paltry $3.7 billion, and even accessories (controllers, peripherals, VR headsets, etc) were close behind at $2.2 billion.
Now Xbox division head Phil Spencer's affirmations that consoles aren't actually profitable makes a lot of sense.
"So I don't think you'll see console move. Unless the prices of the consoles themselves change to where they're not a subsidized piece of hardware but rather something that's profitable, like other consumer electronic devices, I don't think you're going to see a constant iteration in the console space," Spencer said in a recent interview with Gamasutra.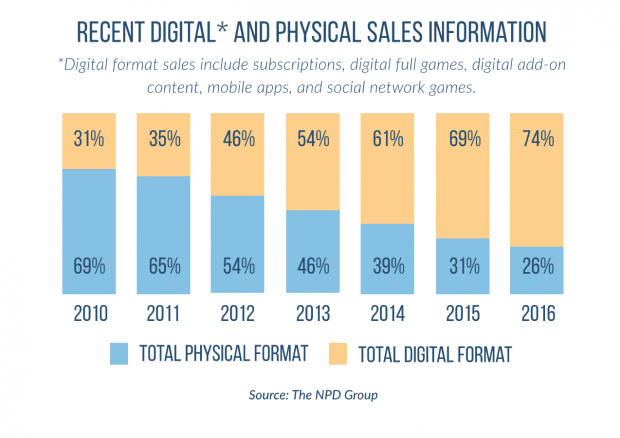 ESA's report also reveals that digital sales made up a whopping 74% of total games industry sales in 2016.
Of course this isn't actually surprising. The data lumps together every possible aspect of digital gaming across every platform, not just actual game sales--it combines add-ons/DLC, digital subscriptions and digital subscription-based services, mobile games, social games on PC/mobile, games purchased on PC (Steam, GOG, etc) and consoles (PSN, Xbox LIVE, etc), and digital handheld games.
All of that put up against physical retail game sales on all platforms. So...of course digital represented 74% of total sales in 2016 when you combine all of those things together.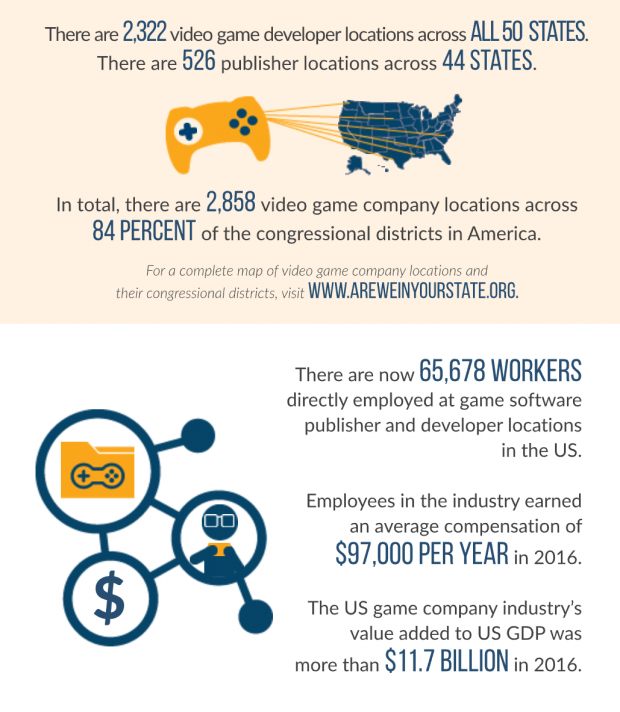 ESA even broke down the economic impact of the games industry in the United States.
There's more that 2,000 developers across all 50 states, and over 500 publishers across 44 states. Over 65,000 workers are part of the games industry, and the average annual salary is $97,000! What's even more impressive is that video games added an impressive $11.7 billion to the US GDP in 2016.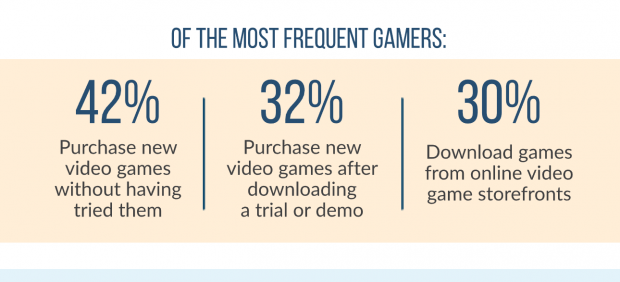 The report goes on to pretty much show why game demos are dead: gamers will simply buy the games regardless if they've played them or not. 42% of gamers will buy a game even if they haven't tried it out beforehand.
So there's really no need for a demo. And what demos are offered are locked behind monthly paid subscription plays, such as EA's Origin and EA Access First Play Trials.
2017 and beyond
2017 is expected to be another big year for gaming, with Nintendo's new Switch handheld-console hybrid and Microsoft's Project Scorpio shaking things up throughout the year. It'll be interesting to see how the industry continues to expand throughout the year, but I expect to see more of the same kinds of trends continue: more action-based shooters taking the lead, and games becoming more casualized and catering to the most popular audience in hopes of selling more units.
Related Tags