After more than 12 years studying Saturn, its rings, and moons, NASA's Cassini spacecraft has entered the final year of its epic voyage. The conclusion of the historic scientific odyssey is planned for September 2017. Cassini already sent some impressive images of Saturn's atmosphere and shown us detailed images of Saturn's rings.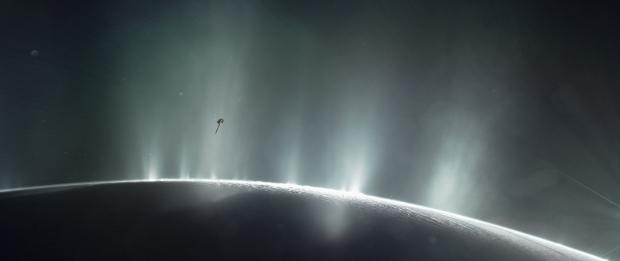 However, Cassini's most important discovery reveals much more. NASA has announced that a form of chemical energy that life can feed on appears to exist on Saturn's moon Enceladus. The paper from researchers with the Cassini mission, published in the journal Science, indicates hydrogen gas, which could potentially provide a chemical energy source for life, is pouring into the subsurface ocean of Enceladus from hydrothermal activity on the seafloor.
The presence of ample hydrogen means that microbes if they exist there, could use it to obtain energy by combining the hydrogen with carbon dioxide dissolved in the water.
With this finding, Cassini has shown that Enceladus has nearly all three ingredients for habitability (liquid water; a source of energy for metabolism; and the right chemical ingredients, primarily carbon, hydrogen, nitrogen, oxygen, phosphorus, and sulfur). Although Cassini hasn't found phosphorus and sulfur in the ocean, scientists suspect that they are present there.
"Confirmation that the chemical energy for life exists within the ocean of a small moon of Saturn is an important milestone in our search for habitable worlds beyond Earth," said Linda Spilker, Cassini project scientist at NASA's Jet Propulsion Laboratory (JPL) in Pasadena, California.
The Cassini spacecraft detected the hydrogen in the plume of gas and icy material spraying from Enceladus during its last, and deepest, dive through the plume. Cassini then sampled the plume's composition, and the scientists have determined that nearly 98% of the gas in the plume is water, about 1% is hydrogen, and the rest is a mixture of other molecules including carbon dioxide, methane, and ammonia.
"Although we can't detect life, we've found that there's a food source there for it. It would be like a candy store for microbes," said Hunter Waite, lead author of the Cassini study. The Cassini spacecraft wasn't designed to detect life in Enceladus plume since the scientists didn't know that it existed until the spacecraft reached Saturn.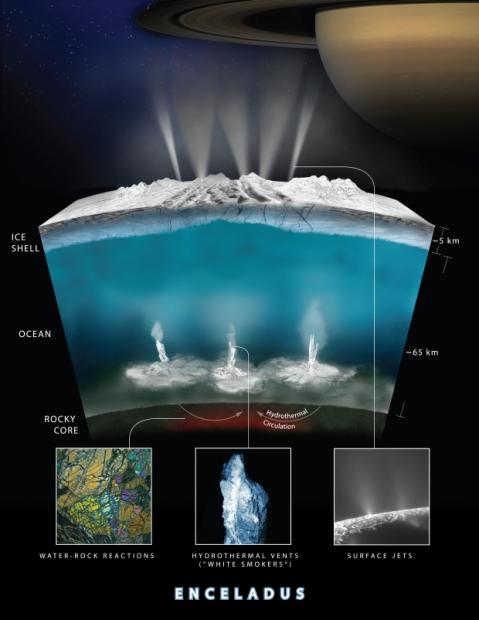 Several moons orbiting Jupiter and Saturn are known to contain underground oceans, but Enceladus is the only one where scientists have found proof of an energy source for life. This doesn't mean that there is life on Enceladus, but it is possible that some form of life exists there.
Scientists still have a lot of work to do; a lot of data to analyze, but this discovery is huge since it opens the possibility of life in our Solar system.
The next step will be to send a life-finding mission to Enceladus.