Collect 900 Korok seeds in Zelda for this special reward
Hestu gives you a special pile of gifts for spending tons of your time collecting seeds.

Published Wed, Mar 15 2017 4:39 PM CDT
|
Updated Tue, Nov 3 2020 11:56 AM CST
Zelda: Breath of the Wild has 900 Korok seeds spread across the massive (and I mean massive) in-game world. Not even two weeks after the game's launch, a dedicated gamer has found all 900 of them, and unlocked the secret of Hestu's reward.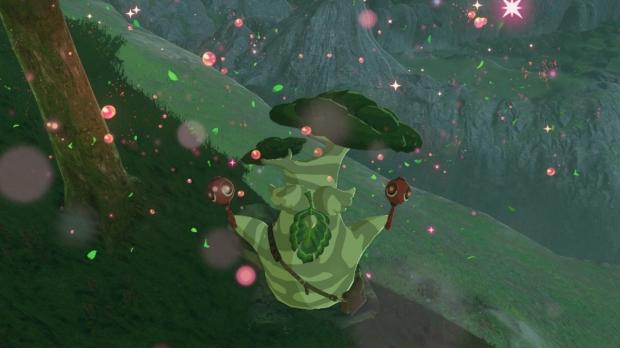 One of the main gripes in the new Zelda game is limited inventory space. The game quickly gives you a way to unlock more space, but only at the expense of time: you have to search for Korok seeds hidden throughout the game. To get these seeds you have to solve humorous little logic puzzles throughout Hyrule: puzzles like placing a rock in an incomplete ring of circles, putting an apple on an altar, things like that.
Solving these puzzles summons a cute little "child of the forest" who rewards you with a Korok seed.
These seeds are then taken back to Hestu, a tree-man who's probably one of the most hilarious NPCs in the game. I highlighted this whimsical NPCs in my little guide, which you can find here.
Give Hestu your Korok seeds (the seeds go into his maracas, you see, and Hestu looooves to make music and dance...Shakala!) and he'll unlock a single Shield, Bow or Weapon inventory slot. There's only one catch: the Korok seed requirement is cumulative. So it's 1 seed for the first upgrade, 2 for the next, etc etc.
And if you collect all 900 Korok seeds, you get something really special.
But before we reveal what it is, take heed of the spoiler warning!
WARNING: SPOILERS AHEAD!
Redditor xFateAwaitsx spent quite a bit of time wrangling all 900 Korok seeds and received Hestu's "gift."
It's actually kind of...well...shitty.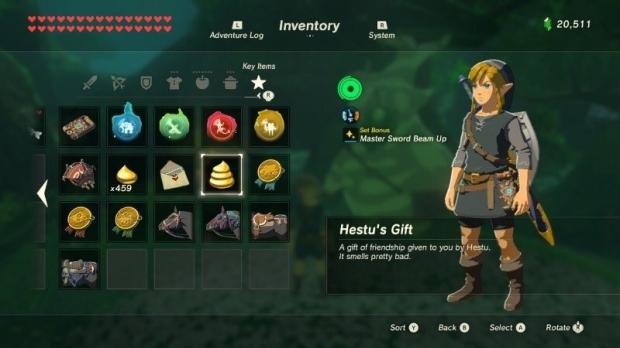 Yes, this is real. Nintendo actually put this into the game. Hestu awards you with a nice pile of "gift," and then asks you "do you like it?"
There's even a bit of video to show you it's real.
Talking to Hetsu after collecting all 900 Korok Seeds #hetsu #BreathoftheWild #botw pic.twitter.com/vBDLhyzRj8

— FateAwaits (@Fateawaits520) March 14, 2017
Kotaku's Luke Plunkett made a great point about this "reward": "It's almost as though it's some kind of commentary on the pointlessness of collecting useless shit in video games..."
Hey, at least Hestu made it himself right?
Related Tags