Diablo 3 Necromancer curses and skills preview
Check out the necro's new deadly skills and curses, coming soon to Diablo III (for a price)

Published Wed, Mar 15 2017 10:12 AM CDT
|
Updated Tue, Nov 3 2020 11:56 AM CST
The Necromancer will soon return to the land of Sanctuary, and Blizzard debuts a closer look at the fell wizard's powers and curses.
If you've played Diablo II then you know exactly what to expect from the new necro class: bone spells, undead-raising spells, and deliciously fun curses like Amplify Damage, Decrepify, or Life tap. While Blizzard isn't ready to slap a release date or a price down on Diablo 3's new Rise of the Necromancer DLC pack, we do get a nice glimpse at the white-haired cultist's moveset.
Blizzard showed off five skill and rune combinations, including Grim Scythe, the necro's major melee-based Essence generator ability.
Grim Scythe (Skill)
Then we have the base Death Nova skill, which can be customized with skill runes to enable Blood Nova, which dishes out damage at the cost of Essence and health (Poison Nova will likely be in too).
Death Nova (Rune)
Devour is another interesting main skill ability that allows you to refill Essence by absorbing dead bodies, and you can slot in the Cannibalize skill rune to gain health this way as well.
Devour (Rune)
Next up we have the classic Raise Golem spell, which summons a fearsome golem to fight by your side; use the Blood Golem skill rune and your golem will explode to refill your health.
Raise Blood Golem (Rune)
And finally we have Leech, a major skill that's basically Life Tap from Diablo II; the curse turns enemies into walking bags of blood by letting you regen health with every smack.
Leech (Skill)
The Rise of the Necromancer DLC won't be a fully-fledged expansion with new areas or anything like that. It will be a paid DLC that simply adds the new Necromancer class to the game in female or male forms. Blizzard has yet to announce a price or release date for the DLC.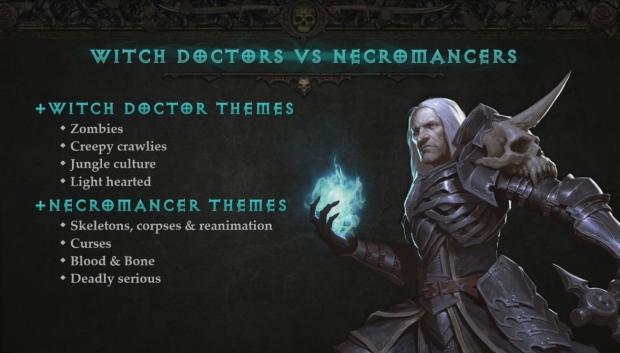 Check below for more info on the Necromancer DLC pack:
Will there be a PTR for the Necromancer?

Yes! The PTR for the Necromancer will be a little different from other PTRs-stay tuned for more information.

Is the Necromancer part of an expansion pack?

No, the Necromancer is part of a content pack which includes the class, an in-game pet, cosmetic wings, two additional character slots, two additional stash tabs (on PC), a portrait frame, pennant, banner, and a banner sigil.

It will, however, launch alongside a free major content patch that includes two new zones, Challenge Rifts, and more. These additional features will be available for all players with Diablo III: Reaper of Souls or the Ultimate Evil Edition.

How much will the pack cost?

We're not ready to announce a price yet-we know you're eager to find out, but we have a few more i's to dot and t's to cross before we can share.

When is the Necromancer coming to Diablo III?

We are currently aiming for the second half of 2017; when we have an official release date, we'll certainly share it!
Related Tags