MSI reveals VR Jam winners
MSI announces the winners of its VR Jam contest, showing off the best of the best from over 600 VR game developers.

Published Thu, Jan 19 2017 2:47 PM CST
|
Updated Tue, Nov 3 2020 11:56 AM CST
MSI today announced the winners of its VR Jam contest, which had over six hundred teams across 72 countries competing for a chance to win awesome prizes from MSI, including its GP52M VR gaming laptop and its high-end Aegis X gaming desktop.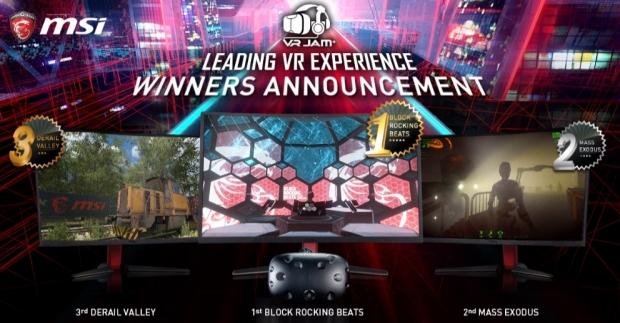 MSI has announced four winners from the contest: 1st prize goes to the Netherlands' Sander Sneek with the VR game Block Rocking Beats; second plays goes to England's Dan Knight and Ben Barton for their game Mass Exodus; third place goes to Serbia's Slobodan Stevic and Nand Ognajanovic for their VR game Derail Valley.
The MSI community choice award goes to Ghost Alpha Project, a VR game that sees players as a futuristic ninja that wields transforming lightsaber-like weapons to wreak havoc on their foes. Oh man, that sounds like a blast.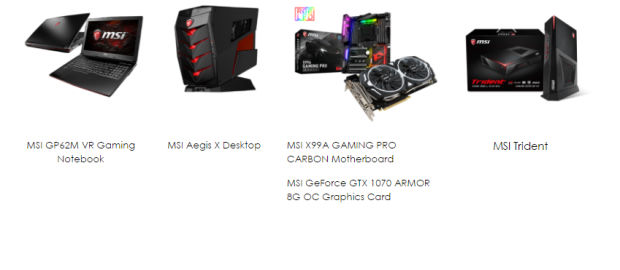 "In the competition entries, we discovered many wonderful creative contents from numerous developers; VR JAM is a driving force in VR ecosystem that further adds to its sparkle and vitality. With MSI's core faith of commitment and dedication to the best and innovative gaming experience, MSI is glad to look forward to more amazing VR JAM works and is willing to be the promoter of the VR games," said MSI Marketing director Sam Chern.
The total prize pool for MSI VR JAM competition will exceed 80,000 USD, with high bounty for the top three winners being 30,000 USD, 25,000 USD, and 15,000 USD respectively.

Part of the prizes pool are MSI high-end hardware products, the newest MSI GP62M VR gaming laptop, Aegis X gaming desktop, Intel X99 A GAMING PRO CARBON motherboard, GeForce GTX 1070 ARMOR 8G OC graphics card and so on.

Furthermore, the best is yet to come, MSI will also be giving away the world's smallest VR-Ready gaming desktop "Trident" as a special prize for the winner of the Community's Choice Award!
You can see trailers of each of the winning VR games below, and check out the schedule for the crowning ceremony in Taipei.
MSI VR JAM Awards Info
Date: Tuesday 24th January, 2017
Charge : Free
Time: 10:00am - 5:00pm
Venue: Syntrend, 5F Clapper Studio Location: No.2, Sec. 3, Civic Blvd., Zhongzheng Dist., Taipei City 100, Taiwan
Related Tags