Deepcool's Quadstellar case looks like a Portal cube
Deepcool shows off its awesome new Quadstellar PC chassis at CES 2017.

Published Thu, Jan 5 2017 6:34 AM CST
|
Updated Tue, Nov 3 2020 11:57 AM CST
CES 2017 - PC cases are all about utility, of course, but it always helps to have some eye-catching style in a rig (and we're not talking about just adding tons of glowing RGBs to every component). That's where Deepcool's latest Quadstellar chassis comes into play.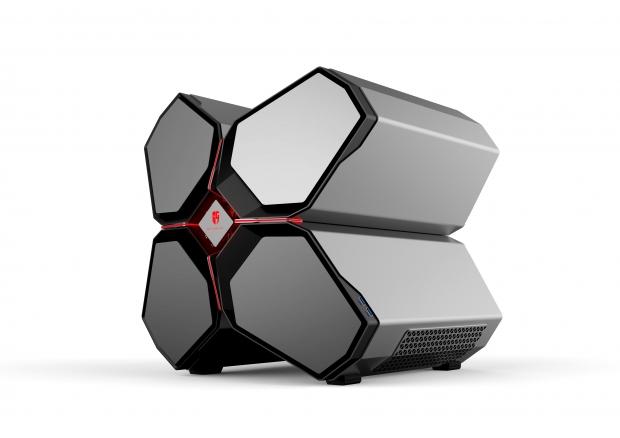 The Deepcool Quadstellar is an upgrade to the company's Tristellar ITX case, and features a whole extra cell to house more components. The chassis puts that extra space to good use, featuring a full ATX motherboard and room for four dual-slot video cards. You can also pack in up to nine 3.5-inch HDDs, or twelve 2.5 HDDs along with a cooling solution.
But what about cooling? You'd think case's design--which resembles a Portal cube or even IGN's official symbol--would constrain your cooling setup. Never fear: the Quadstellar can sport a radiator up to 360mm in length at the front, and a 240mm radiator at the bottom. The front intake also opens up automatically once the internal case temps hit a certain threshold, thereby pulling in fresh cool air.
Deepcool's new Quadstellar case will drop in May 2017, but we're not sure how much it'll cost. The Tristallar costs about $399, so expect to pay to show off your rig in style.
Here's what Deepcool says about the Quadstellar in it's official press release:
QUADSTELLAR - Four-cabin Design ATX Computer Case

"With the integral structure split into four individual cabins for graphic card, motherboard, power supply and hard disk drive separately, QUADSTELLAR now achieves a new significant breakthrough in providing innovative PC thermal solution by isolating the hottest components into separate compartments and maintaining high compatibility meanwhile. The second noteworthy feature here is the included automatic air intake system which is able to adjust the air flow for a stable cooling performance thanks to the intelligent temperature sensors inside.

Available in May, 2017"
Related Tags