On December 7th, Amazon delivered its first package by drone. The first package delivery took 13 minutes from placing an order to delivery.
First-ever #AmazonPrimeAir customer delivery is in the books. 13 min-click to delivery. Check out the video: https://t.co/Xl8HiQMA1S pic.twitter.com/5HGsmHvPlE

— Jeff Bezos (@JeffBezos) December 14, 2016
The Prime Air service is at the moment in a test phase in Cambridge, England. Amazon published a video showing more details of how the service works. In the video, they state that they are testing Prime Air on two customers, but they will expand the number in the near future.
Moments after receiving an order, an electrically-powered Amazon drone makes its way down an automated track and then rises into the sky with the customer's package on board.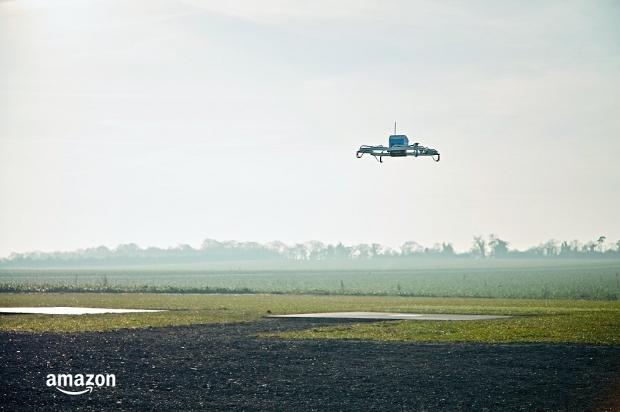 The delivery drones are completely autonomous, from take-off to landing and return they operate on their own, without human assistance. The drones can carry packages up to 5 lbs (around 2.2 kg), and within 30 minutes of placing an order, the customer will receive their package.
Amazon hopes to expand their test service to other countries, but that depends on the laws and regulations regarding drones.