With the arrival of the first Titanfall 2 DLC, Respawn posted even more information about the history behind the map Angel City, the Elite Wingman Pistol and of course, what they will be selling in the in-game store.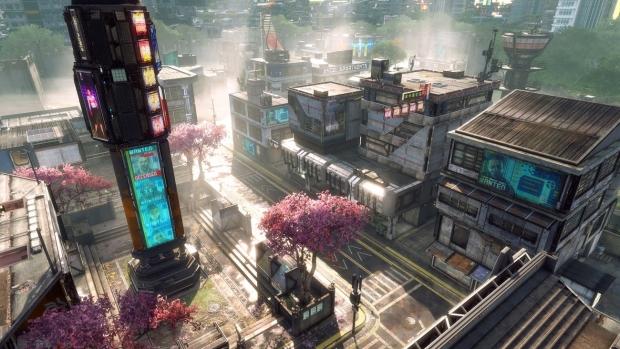 Angel City is an old fan favorite from the first Titanfall but do you know its history? According to the post : "When the IMC instituted martial law in Angel City, massive walls were built and a system of security checkpoints was created to divide the city into many smaller districts. "
"The unfortunate residents of the Harbor District, now unable to move freely throughout the city, are only able to view the glittering skyline from afar", added the post. The little lore bite finished with how pilots were able to use this as an advantage, which you can do the same too: "Pilots fighting in the city gravitate to the highly accessible rooftops, using them to cross entire city districts without ever touching the ground."
Pro tip there. Keep it in mind. When facing an enemy, remind yourself what Obi-Wan said to Anakin during their duel on Mustafar in Revenge of the Sith: "I have the high ground, Anakin. It's over."
We also got a description of the B3 Elite Wingman pistol. This sidearm actually was customized by Bish, one of the radio operators that you hear from in Titanfall 1. Bish was "an inter-colonial arms dealer with a shady past and even cloudier business practices." He must have a change of heart when he saw how the IMC treated people on the Frontier to join the Militia.
The post described the Elite wingman as "[a] high caliber revolver [that] has a custom ergonomic grip to mitigate heavy recoil in heavy-G to low-G environments. It has been outfitted with a match trigger group bringing its pull weight down to 1.5 lbs. Other modifications are a black parkerized finish, forward rail plates, and a rear mounted Iron-Dot reflex sight."
Furthermore, we got clarification of what exactly the Prime titans are. Prime titans have newer chassis with new sound effects and a new execution. The only prime titans available right now are Ion and Scorch. You can see Ion Prime all over the promotional materials of the DLC and now we can a clearer look at Scorch Prime.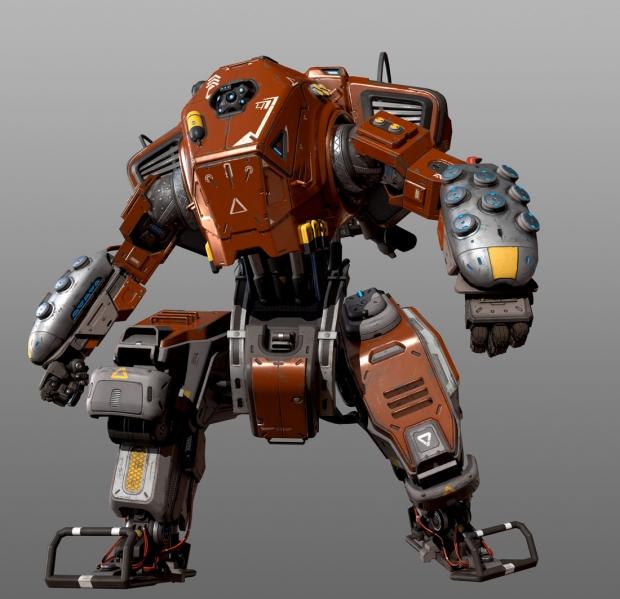 Ion Prime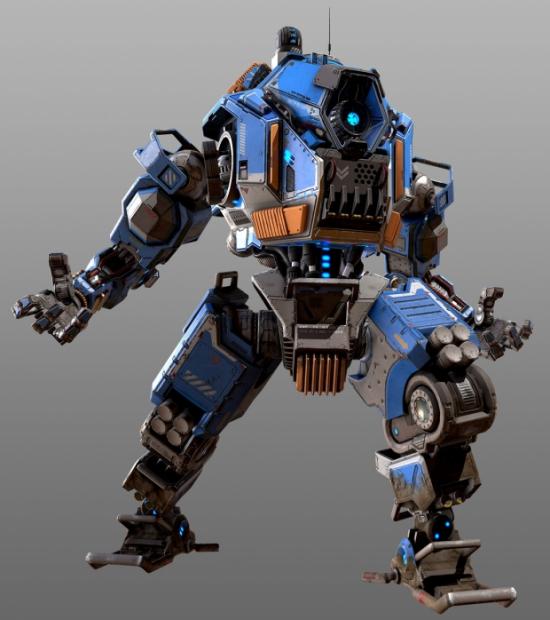 For the info on other items in the shop, here they are: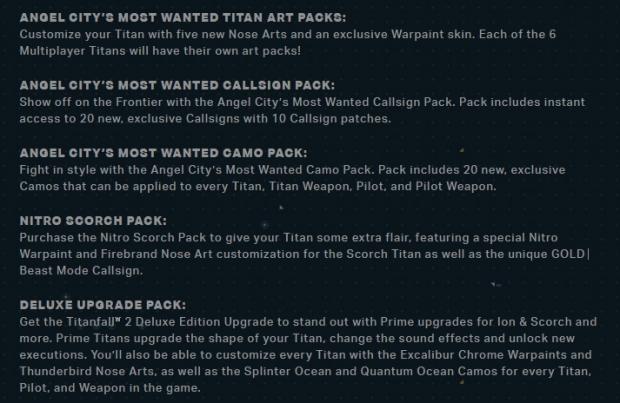 Remember that there will be a free multiplayer trial on Xbox One, PS4 and PC this weekend, starting December 2nd. You can check out the details here.
So, what do you think of the first DLC content and the extra depth that the description of the map and pistol provided? Let us hear your thoughts in the comment section.