Project Scorpio to deliver new era of 4K console gaming
'Project Scorpio will deliver 4K gaming to people in the living room on their TVs that they have not experienced yet.'

Published Nov 21, 2016 5:21 PM CST
|
Updated Tue, Nov 3 2020 11:57 AM CST
Microsoft's new "monster" 4K-ready Project Scorpio console is poised to eclipse Sony's PlayStation 4 Pro in terms of raw power, and Xbox exec Aaron Greenberg affirms the system will deliver a new generation of 4K gaming that console gamers haven't seen yet.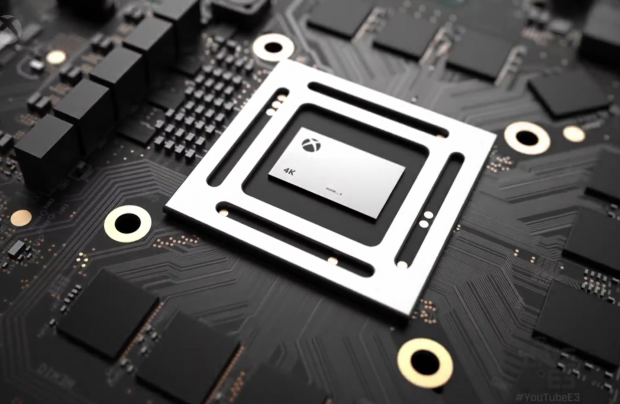 According to Microsoft, Project Scorpio will rock "the most powerful graphics processor that's ever been put into a games console" to deliver high-end performance at "the highest res at the best frame rates without no compromises." Essentially the games-maker wants to meld the worlds of enthusiast PC gaming and console gaming together, using Windows 10 as the software glue and AMD's next-generation GPU and CPU hardware glue to hold it all together.
In fact, Microsoft aims to bring true and native high-performance 4K gaming to the living room, and the company is confident Project Scorpio will bring 4K gaming that console games haven't experienced yet, even with Sony's PS4 Pro.
"Here we are, three years into the generation, and we also have gamers saying, 'Hey, I want the most power, I want the best experience possible,' and that's what Project Scorpio is all about," Microsoft's Senior Global Product Marketing Director Aaron Greenberg told IGN in a recent interview.
"[Project Scorpio] will be the most powerful console ever made. It will deliver 4K gaming to people in the living room on their TVs that they have not experienced before," Greenberg affirmed. "So today, a lot of people who are spending thousands of dollars on high-end PCs are able to experience 4K gaming, sure, but to be able to bring that at scale to the living room, to the console market, is what Scorpio is all about."

Read Also: Project Scorpio renders games in native 4K
Microsoft can assure gamers and boast about Project Scorpio's specs, but as the old saying goes, the proof is in the pudding. Microsoft will likely unveil Project Scorpio during E3 2017 alongside full specs and games lineup, and then launch the system in Holiday 2017.
Read Also: Project Scorpio's custom 6TFLOP GPU could sit between AMD's Polaris and Vega GPU architectures
Here at TweakTown we suspect Project Scorpio will tap a combination of AMD's new Zen CPU and high-performance enthusiast-grade Vega GPU architectures in a highly-customized, scaled, next-generation SoC (System-on-Chip).
In fact, AMD is already testing out its new Raven Ridge APUs that feature Zen CPUs and Vega GPUs, which could pave the way for next-generation SoCs that power Project Scorpio's new tech.
In any case, Project Scorpio's high-end power will also come at a hefty price tag. Xbox boss Phil Spencer says Project Scorpio is a premium console that comes at a premium price, and I predict it'll sell for at least $599.
Luckily Microsoft will offer a trade-up program for Project Scorpio, so you'll be able to trade your existing Xbox One or Xbox One S towards the system.
Project Scorpio will launch in Holiday 2017.
Xbox One Scorpio confirmed specs:
6 TFLOPs of performance

320GB per second memory bandwith

8CPU Cores
Everything we know so far about Project Scorpio:
Related Tags