After more than 12 years studying Saturn, its rings and moons, NASA's Cassini spacecraft has entered the final year of its epic voyage. The conclusion of the historic scientific odyssey is planned for September 2017.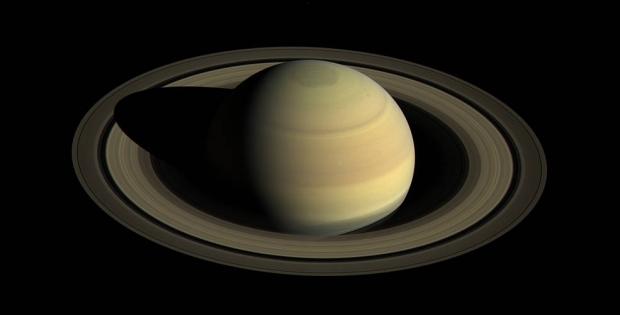 Now, the Cassini spacecraft revealed dramatic seasonal changes in the atmospheric temperature and composition of Saturn's largest moon, Titan. The images show a vortex in the upper atmosphere over the south pole. Cassini also discovered gasses in this vortex that are otherwise quite rare in Titan's atmosphere.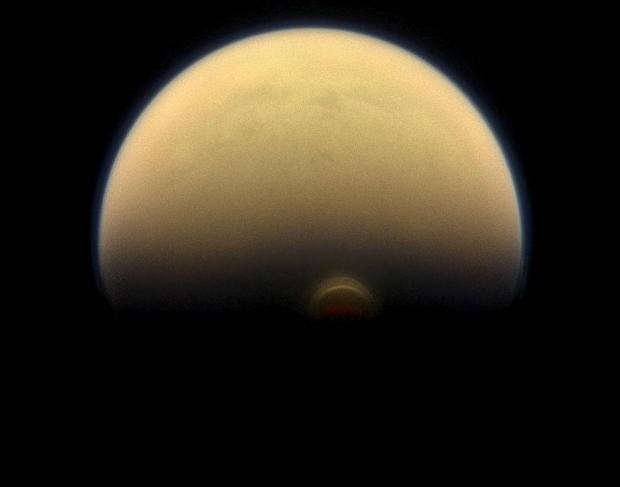 Athena Coustenis, a member of Cassini's Composite Infrared Spectrometer team at the Observatoire de Paris, explained the importance of this discovery.
Cassini's long mission and frequent visits to Titan have allowed us to observe the pattern of seasonal changes on Titan, in exquisite detail, for the first time. We've had the chance to witness the onset of winter from the beginning and are approaching the peak time for these gas production processes in the southern hemisphere. We are now looking for new molecules in the atmosphere above Titan's south polar region that have been predicted by our computer models. Making these detections will help us understand the photochemistry going on.
Beginning on November 30, Cassini's orbit will send the spacecraft just past the outer edge of the main rings. These orbits, a series of 20, are called the F-ring orbits. During these weekly orbits, Cassini will approach to within 7,800 kilometers (4,850 miles) of the center of the narrow F ring.
Linda Spilker, Cassini project scientist at NASA's Jet Propulsion Laboratory, Pasadena, California, explained:
During the F-ring orbits we expect to see the rings, along with the small moons and other structures embedded in them, as never before. The last time we got this close to the rings was during arrival at Saturn in 2004, and we saw only their backlit side. Now we have dozens of opportunities to examine their structure at an extremely high resolution on both sides.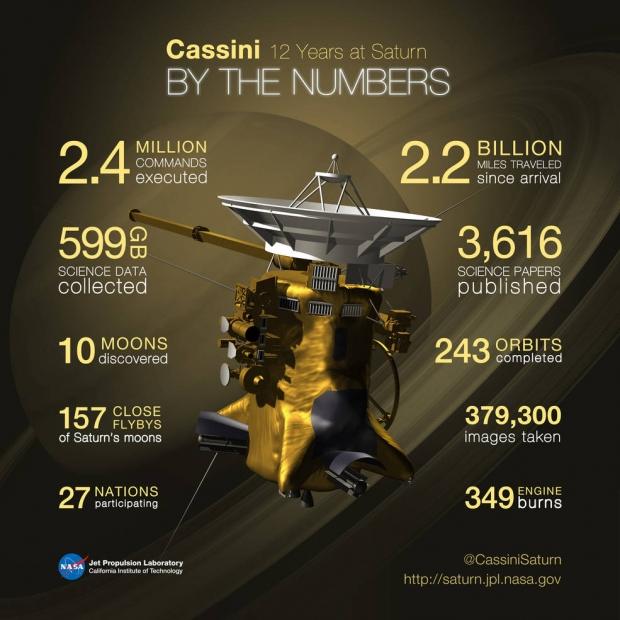 Cassini's final phase called the Grand Finale, begins in April 2017. A close flyby of Saturn's giant moon Titan will reshape the spacecraft's orbit so that it passes through the gap between Saturn and the rings - an unexplored space only about 2,400 kilometers (1,500 miles) wide. During the Grand Finale, Cassini will make the closest-ever observation of the Saturn, and scientists hope to gain new insights into Saturn's interior structure.
The Grand Finale will come to an end on September 15, 2017, as Cassini dives into Saturn's atmosphere, returning data about the planet's chemical composition until its signal is lost. Friction with the atmosphere will cause the spacecraft to burn up like a meteor soon afterward.