AMD has been spreading their new Polaris architecture throughout the different markets that they serve. That started out with the RX 480, a gaming graphics card, and continued into the professional arena with their newly branded Radeon Pro brand of graphics cards. AMD also updated their data center GPUs with Polaris graphics cards with their MxGPU line of products, so the last place for AMD to update their lineup was in embedded.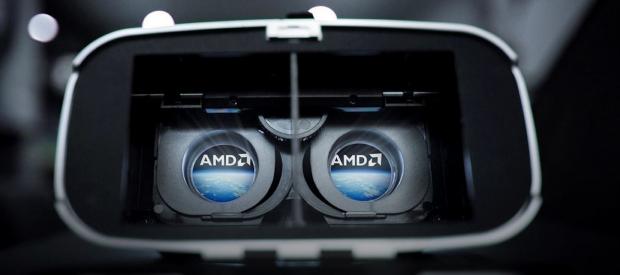 AMD's embedded graphics products generally tend to sit within a few applications where the company has traditionally done well. These applications include the use of graphics in medical imaging, digital signage and casino gaming. These are all familiar applications for AMD embedded graphics chips, however those use cases are expanding beyond the standard expected applications with these new AMD embedded graphics chips.
Because the new Polaris architecture delivers up to 2.8x performance per watt compared to the previous generation, there are many new applications for AMD's newest embedded GPUs.
AMD is announcing two new GPUs, the E9550 and E9260 but will be offering the E9260 in both MXM and PCIe connectivity. This means that AMD's sub 50W embedded GPU is extremely flexible for implementation and integration into embedded systems like the ones mentioned above.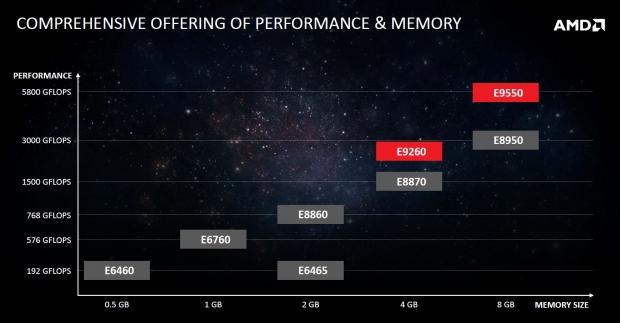 The highest performance GPU, the E9550 comes in at 95W and features 8GB of memory and up to 6 x DisplayPort connections, allowing for some very complex embedded display applications. In fact, with the new Polaris GPU family being introduced to the embedded business means that things like virtual reality and augmented reality can now exist within the realm of embedded computing.
While it remains to be seen what applications in the embedded field will use AMD GPUs for VR and AR, it is good to know that there are very powerful GPUs available for such applications should someone choose to build them. Embedded computing usually isn't very sexy, but it enables things like high resolution medical equipment and all of these new attractive video-wall-like gaming machines you see in casinos today.