Paid DLC in early access games is actually happening
Get ready for a new exploitative practice, gamers! Ark Survival Evolved is launching a paid DLC despite still being in early access.

Published Fri, Sep 2 2016 9:32 AM CDT
|
Updated Tue, Nov 3 2020 11:58 AM CST
Studio Wildcard has just set a new sleazy precedent for the gaming world: paid DLC expansions for early access games.
Ark: Survival Evolved isn't officially released yet and it's already getting a paid DLC pack. No, really; amid all the fruits that modern gaming has delivered, gamers have to toil through exploitative paygates galore, with microtransactions, season passes, freemium schemes, ridiculously shallow DLC packs eroding the very spirit of the industry.
Now Studio Wildcard has taken that a step further by releasing a $20 paid DLC for their unfinished early access online survival sim Ark: Survival Evolved, which is priced at $34.99 on the Xbox Store. So that's $54.99 total for an early access game. Let that sink in for a minute.
Ark's new DLC is called Scorched Earth, and early access supporters won't be exempt from the $20 unlock fee.
As expected, some players aren't too happy about getting taxed a second time for content that's obviously culled from the main game and repackaged as DLC. Sure the DLC is optional, but hardcore Ark fans will likely buy into it to unlock all the extra content, which includes a brand new world area hosted on a separate server (users can jump between main game and DLC at any time) with tons of new items, tamable creatures, and a new manticore boss.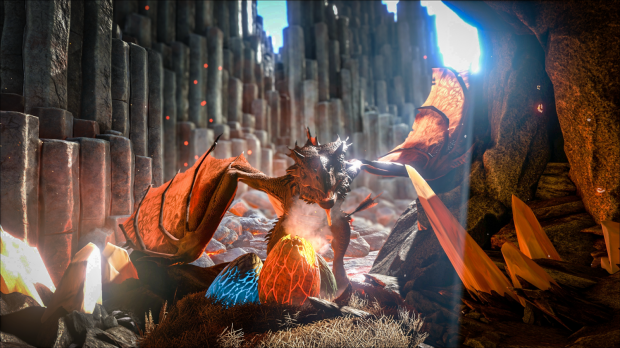 "Scorched Earth is an entirely new map, composed of seven unique, desert themed biomes - dunes, high desert, mountains, canyons, badlands, oasis and the ever-dangerous dragon trench - each with their own aesthetics, resources & ecosystems, and littered with ruins, geysers, and intricate ancient cave systems," reads the announcement post.
Like any other expansion for a finished game, you'll need the $34.99 Ark Survival Evolved base game in order to play Scorched Earth. As I said above that's $54.99 for an early access game. I still can't believe Studio Wildcard has the gall to release a DLC pack for an unfinished early access game.
"Scorched Earth is available starting today on Steam Early Access and Xbox One Game Preview. As Scorched Earth is an expansion, players already must own ARK: Survival Evolved in order to play," reads the announcement page.
Just wait until EA hears about this move...
Related Tags