When the first wave of HBM arrived, we were blown away by its bandwidth (512GB/sec) but it was the form factor that really made me take a step back, allowing for super-fast graphics cards like the Radeon R9 Nano from AMD. Well, HBM2 is already here and used by NVIDIA on their Pascal-based Tesla P100 graphics card, but not in the consumer space... yet.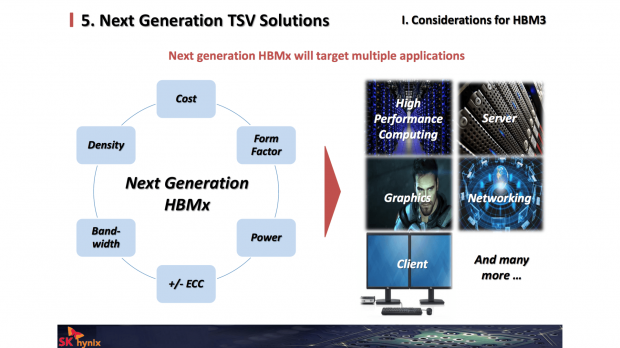 SK Hynix and Samsung are working on new HBM technologies, with HBM3 sitting at the top of the hill. HBM3 will offer twice the bandwidth, but it will feature a lower cost. Right now, HBM3 is known in multiple forms - SK Hynix refers to it as HBM3 or HBMx, while Samsung calls it xHBM or Extreme HBM. Either way, the next generation HBM technology is an improvement over both of its predecessors in HBM1 and HBM2.
HBM2 offers 256GB/sec of bandwidth per layer of DRAM (1024GB/sec total), while HBM3 doubles that to 512GB/sec (2GB/sec+) of memory bandwidth. Better yet, HBM3 should usher in higher-end graphics cards with 64GB of HBM3, which will just be incredible. I don't think we'll see HBM3 on consumer graphics cards anytime soon, but the low-cost HBM technology that is on the way will instead be used - that or GDDR5 and GDDR5X which still offer great performance.