In a bid to counter Nintendo's NES Mini, Sega is planning to release its own official Mega Drive/Genesis Mini console that one ups its rival.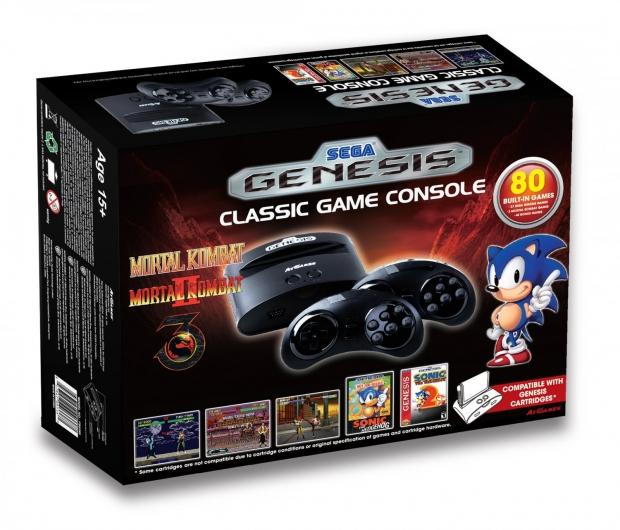 Sega knows the NES Mini is quite restricted, so its decided to release its own fully-functioning miniaturized Megadrive/Gensis system that not only rocks 80 built-in games from Sega's best-of library (30 more than the NES Mini) but also plays original NTSC and PAL game cartridges. That's a pretty huge advantage--as we know the NES Mini doesn't play NES cartridges and isn't a fully-functioning console. Plus it's listed at $49.99 which is a full $10 cheaper than the NES Mini. But it does have its shortcomings and we'll come to those later.
A listing for the Megadrive Mini was spotted on a UK retailer Smyths for £49.99 and a release in October. Remember that the Megadrive is the UK/Europe version of the Genesis. The weird thing is the Genesis Mini is already being sold in the UK and in the US so perhaps the console listed at Smyths is a re-release?
In any case, this might not be official news per se as the Genesis/Megadrive Classic Mini has already been out for quite some time, and it could just be a mix-up from the UK retailer. At the same time, it'd behoove Sega to re-release its own mini console to upjump the NES Mini.
One disadvantage is that the Sega Genesis/Megadrive Mini is quite cheaply built, as you can see in this video here. The sound is also apparently quite bad. It also doesn't come with an HDMI cable, only an AV cable, meaning its games might be distorted and wonky on HDTVs. But it does come with two wireless Genesis controllers.
Check below for all the included games and everything that comes with the Genesis Classic Mini;
Note: The Megadrive is exactly the same as the Genesis; the UK/European region console is named Megadrive, whereas the North American console is named Genesis.
"The Arcade Classic Wireless 'plug n play' two player console is the Ultimate Home Retro Games Console, bringing back the glory days of SEGA MegaDrive! This stylish 2 player console features 80 classic SEGA MD (Mega Drive) games and you can also use original SEGA MD cartridges from all regions (Both PAL and NTSC) The console comes with 2 Wireless Controllers, an AV cable and AC Adapter."
80 built-in gameslers in the pack

'Plug n Play'on any TV

Includes beloved Sonic the Hedgehog games

Includes all 3 original Mortal Kombat games

Two user friendly wireless SEGA MegaDrive controllers

Compatible with SEGA MegaDrive cartridges* (not included)

Includes AV cables

Includes AC adapter
Built-in SEGA MD games - in our opinion, this is the Ultimate Collection:
Alex Kidd in the Enchanted Castle
Alien Storm
Altered Beast
Arrow Flash
Bonanza Bros.
Chakan: The Forever Man
Columns
Columns III
ComixZone
Crack Down
DecapAttack
Dr. Robotnik'sMean Bean Machine
Ecco
EccoJr
ESWAT: City Under Seige
Fatal Labyrinth
Flicky
Gain Ground
Golden Axe
Golden Axe 2
Golden Axe 3
Jewel Master
Kid Chameleon
Motal Kombat
Mortal Kombat 2
Mortal Kombat 3
Ristar
Shadow Dancer
Shinobi 3
Streets Of Rage 1
Streets Of Rage 2
Streets Of Rage 3
Sonic & Knuckles
Sonic Spinball
Sonic the Hedgehog
Sonic the Hedgehog 2
The Ooze
Vectorman
Vectorman 2
Virtua Fighter 2
Games List - bonus cartridge games
Cross the road
Jack's Pea
Jewel Magic
Curling 2010
Fish Story
Mahjong Solitaire
Warehouse Keeper
Chess
Memory
Snake
Air Hockey
Spider
Naval Power
Mr. Balls
Cannon
Fight or Lose
Bottle Taps Race
Bomber
Checker
Hexagonos
Reaction Match
Whack-A-Wolf
Mirror Mirror
Memory Match
Treasure Hunt
Fire Fly Glow
Panic Lift
Black Sheep
Space Hunter
Flash Memory
Table Magic
Color Puzzle
Brain Switch
Mega Brain Switch
Bulls and Cows
Logic Dial
Match Eleven
Formula Challenge
Sudoku Quiz
Dominant Color
* Some cartridges are not compatible due to cartridge conditions or original specification of games and cartridge hardware * This item is limited to 1 per customer * This device is not an emulator and will not play SEGA MD roms - however, it will play original cartridges