Battlefield 4 Naval Strike DLC is free for a little while
Naval Strike latest Battlefield 4 DLC to go free on Origin.
Published Wed, Jul 20 2016 3:06 PM CDT
|
Updated Tue, Nov 3 2020 11:59 AM CST
EA is continuing its free Battlefield 4 DLC spree with Naval Strike, now available for the low price of zero dollars on Origin (for a limited time).
Naval Strike launched in 2014 and features four sea-based maps with a focus on -- you guessed it -- naval gameplay. Although there is still plenty of infantry and air vehicle action, there's also a lot of time to be spent in sea vehicles, many equipped with powerful guns and rockets, and one that can be driven on land or sea.
The DLC also features a cool Carrier Assault mode, which serves as an homage to Battlefield 2142's Titan Mode. Although generally regarded to be less well-received than its inspiration, it still offers a fun twist on the usual formulas. Last I checked, it hadn't really caught on, but it's plausible the 'free' thing will change that.
Also included are new weapons and gadgets, perhaps most notably the AWS (one of the support class' best weapons, as it functions much like an assault rifle but with a huge magazine) and the M320 3GL (a powerful grenade launcher that can be used on its own or as an attachment).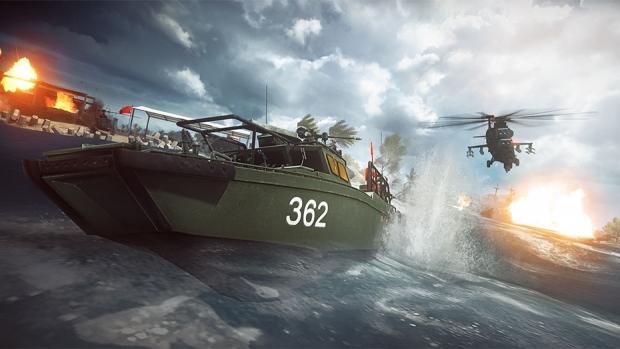 To grab it, click here, where you can also grab the sweet 90s ARPG Nox if you're so inclined.
Naval Strike marks the second last Battlefield 4 DLC to go free. Next up: China Rising.
Related Tags