No Man's Sky is officially finished and ready for release
No Man's Sky has gone gold! In just a few weeks we'll be able to explore the infinite worlds of the incredible sci-fantasy universe.

Published Fri, Jul 8 2016 6:38 AM CDT
|
Updated Tue, Nov 3 2020 11:59 AM CST
After four long years of scouring the infinite reaches of the universe, Hello Games has completed the launch build of No Man's Sky.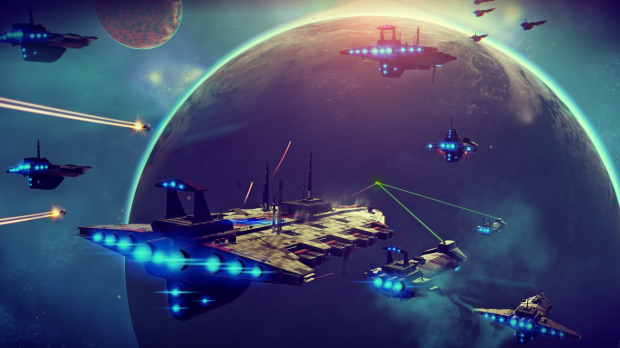 No Man's Sky just went gold. Let that sink in for a minute: No Man's Sky, the staggeringly-hyped, procedurally-generated space sim that ignited our imaginations at VGX 2013, is now officially ready for its launch next month. No more delays, no more excuses. Come August 9 (just a few weeks!), gamers will finally be able to peel back the rim of the universe and explore to their heart's content.
The game is one of the most ambitious experiences ever created by a small indie studio. In fact, there's only sixteen devs at Hello Games working on No Man's Sky. Just think about that...Ubisoft has hundreds of people working on AAA Assassin's Creed games, but Hello Games is creating something that's "even bigger than we can imagine". The small studio aims to break the mold and deliver something new with No Man's Sky.
"I've said it before, but No Man's Sky is the hardest thing I've ever worked on. It's even bigger than you can imagine. This is a type of game that hasn't been attempted before, by a smaller team than anyone would expect, under an intense amount of expectation,"Hello Games head Sean Murray said in a recent blog post.
I still can't believe it's coming out in little under five weeks time. It feels like we've been waiting so long for this game--it's something you look forward to actually look forward to, something that's on the distant horizon so you can wonder about it.
No Man's Sky releases August 9 on PS4 and PC. Check out or massive list of everything you can do in No Man's Sky for more info, and the gameplay videos/screenshots below.
Related Tags