While there might be a 1000-core processor in the wild, we won't see it in consumer or prosumer machines in that form, ever - at least not until the likes of Intel or AMD can hit 1000 processors on a single chip. Well, Intel is getting closer with its new Xeon Phi 7290 processor, which has 72 CPU cores.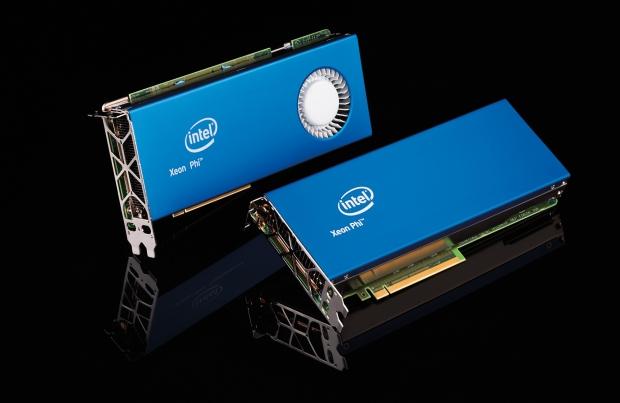 Intel's new Xeon Phi 7290 is the fastest processor the company has released, and it's also their most expensive. The new Xeon Phi 7290 has 72 processing cores at 1.5GHz each, with Intel sending them out in September, with a huge price tag of $6294. Intel's next-gen Xeon Phi 7290 doesn't rely on the PCIe bus, allowing it to handle a much higher wider variety of workloads, and configurations that aren't supported by usual accelerators.
Intel has included 16GB of HBM with 490GB/sec of memory bandwidth for applications that are memory bound, while the dual-port Intel Omni-Path Fabric makes an appearance, reducing the cost of Intel's new Xeon Phi 7290, in terms of cost, power consumption and space required. The new Xeon Phi 7290 is one of four new processors, with the new chips packaged very similar to video cards, functioning as primary processors, or co-processors - depending on the use.
The Xeon Phi 7290 is the fastest of them all, with 72 cores at 1.5GHz and 16GB of HBM1 with 7.2GT/s of bandwidth, it requires 245W of power + 15W fabric. Xeon Phi 7250 is the second one down, with 68 processores at 1.4GHz, the same 16GB of HBM1 with 7.2GT/s bandwidth and 384GB of RAM support at 2400MHz.
The third Xeon Phi processor is the Xeon Phi 7230 which delivers the best memory bandwidth per core, with 64 processor cores at 1.3GHz each, while the Xeon Phi 7210 represents the best value for money with 64 cores at 1.3GHz, but the 16GB of HBM1's bandwidth is knocked down to 6.4GT/s, with its 384GB of RAM support only hitting 2133MHz. All four processors have 245W + 15W fabric power consumption.
As for their features, here's what Intel's new Xeon Phi processors are capable of:
Connectivity: Intel Xeon Phi processors now offer the ability to deploy Intel's next generation fabric architecture, Intel Omni-Path, as a standard, integrated option. The combination provides the foundation for powerful and efficient data traffic control by using an advanced "on-load" design that cost-effectively maximizes performance.

Intel Omni-Path architecture automatically scales to tens of thousands of nodes with extremely low power consumption, making the solution ideal for increasingly demanding HPC and analytics workloads.

Storage: Intel Solutions for Lustre software is a parallel filesystem purpose-built for HPC to provide fast, "massively scalable storage software" for accelerating performance on complex workloads.
Memory: MCDRAM is the integrated memory on Intel Xeon Phi processors, providing up to 5x the bandwidth of DDR4 to deliver breakthrough performance for memory-bound workloads.
Software: Intel HPC Orchestrator simplifies the complexity of installation, configuration and ongoing maintenance of implementing an HPC software stack.