E3 2016 - Up until now we thought all old Xbox One games will run at 1080p 60FPS on Microsoft's new Project Scorpio powerhouse console. Xbox division Phil Spencer confirms not all original Xbox One games will benefit from Project Scorpio--only newer Xbox games and older games with dynamic resolution like Halo 5 will tap the console's new hardware.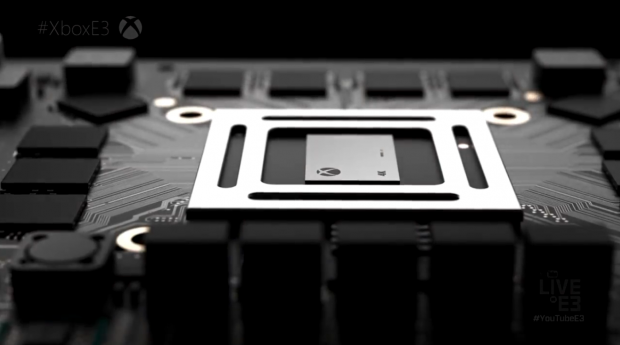 "Scorpio's 6TFLOPs will impact the games and the way they play. ['Upcoming games,' Giant Bomb's Jeff Gertsmann broke in, 'you're not necessarily going to get better performance out of any disc you put in the system.'] You know, that's a great question. If you look at a game like Halo 5 that implements dynamic scaling--as scenes get more complex, in order to maintain 60FPS, it will actually change the resolution. So if you run [Halo 5] on Scorpio, you're actually going to be at that max frame-rate more often," Spencer said during Giant Bomb's E3 2016 broadcast.
Microsoft has affirmed that its Polaris-and-Zen powered Xbox Scorpio won't have exclusive games, but only newer, specially-made games specific older Xbox One games will harness the console's beefy 6TFLOPs GPU processing power. "Some of the existing games will actually run a little better, if they're using dynamic scaling. But I wouldn't buy Scorpio to run your existing library of Xbox One games."
Spencer was careful to say that not every older Xbox One game will play any better on Project Scorpio. "I'm not going to put that as a major selling point of Project Scorpio because not all games use dynamic scaling. I'm trying to be transparent with people on where we are ih the design of Project Scorpio and what we designed it for. It was designed in order to enable these high-fidelity, 4K experiences."
So there you have it, folks: don't expect all of your older Xbox One games to get any dramatic boosts while playing on the Xbox Scorpio, especially not native 1080p 60FPS. This spec is reserved for newer Xbox games, apparently. The console's hardware boost won't be applied retroactively to every game, and only those with dynamic scaling (there's quite a few of them) will run "a little bit better."
That's not to say you can't play existing and older Xbox One games on Scorpio, but you won't get any performance boosts--it'll be like playing them on a normal Xbox One.
Xbox One Scorpio confirmed specs:
6 TFLOPs of performance

320GB per second memory bandwith

8CPU Cores
Everything we know so far about Project Scorpio: