During each of the past five Computex I have attended, GIGABYTE has always had a private suite in Taipei 101 to showcase their prime products. Admittance to this suite is by invitation only, and there was just so much to show I have decided to dedicate an entire article to coverage.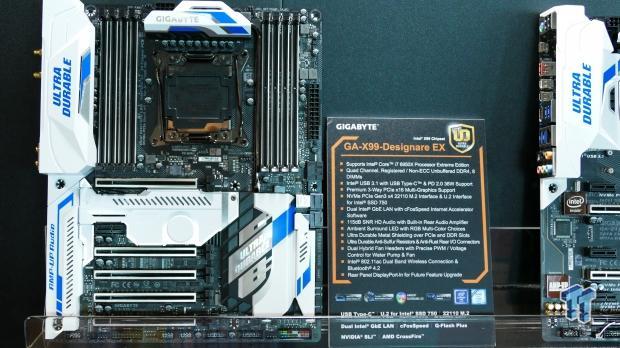 The X99-Designare EX is GIGABYTE's top-of-the-line mainstream model. Moving away from the traditional "Ultra Durable" naming scheme and trying some new words, the X99-Designare EX is one of the first GIGABYTE motherboards you will be able to purchase under this new model name. The motherboard fully supports the 6950X Broadwell-E 10 core CPU, and I used it in our review of the new CPU. The motherboard uses a PEX8747 to expand CPU PCI-E 3.0 lanes to support dual U.2 ports, M.2, and a slew of PCI-E lanes. The board also has dual Intel Gbit LAN and build in Wireless AC/BT. GIGABYTE also make sure to include those RGB LEDs for enthusiasts who might want some extra bling.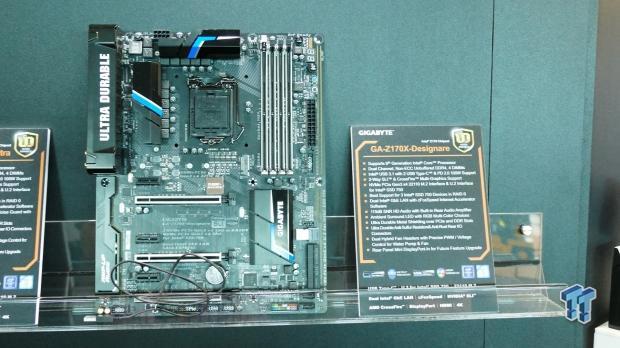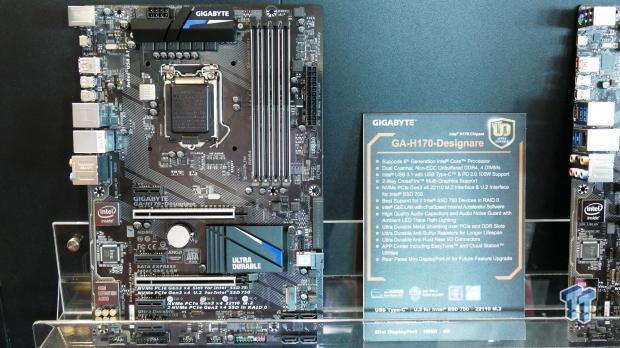 The Z170X-Designare is one of GIGABYTE's new motherboard, not seen before Computex. It carries all the latest features such as U.2, USB 3.1, dual Intel Gbit LAN, and can support three Intel 750s in RAID 0 (it's written on the PCB). The motherboard also has a secret power converter for 100W USB Power Delivery 2.0 support on the USB Type-C connector. It also carries multiple RGB LEDs.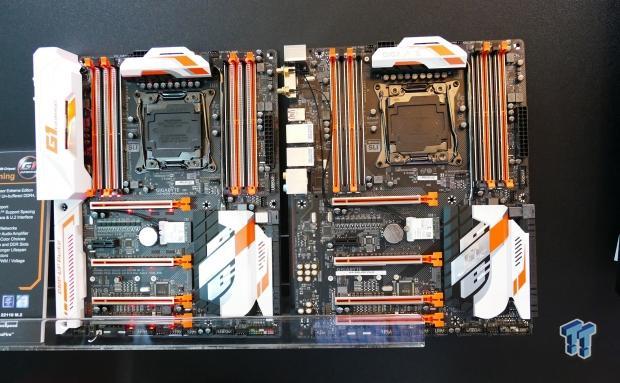 I also caught a glimpse of the X99-Phoenix SLI and X99-UD3 PLUS; the boards look to be almost identical. The different names are probably just regional naming choices, but this is one of the first times GIGABYTE has provided the overclocking orange on a non-overclocking motherboard. GIGABYTE has optimized the spacing on these boards for 3-way SLI/CrossFireX. Both boards have dual Intel Gbit NICs and Wireless AC/BT. The boards also have RGB LEDs, although I am unsure if anyone will use a color other than orange or blue. The motherboards also have Intel's USB 3.1 controller, and a few fan headers capable of voltage and PWM mode operation.
New GIGABYTE Gaming and Workstation Motherboards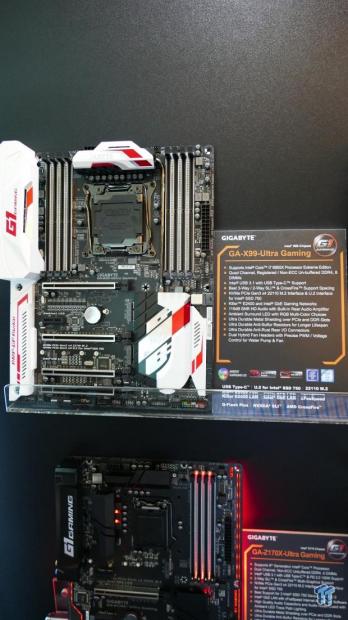 At the top of GIGABYTE's X99 refresh models is the X99-Ultra Gaming. This motherboard is equipped with special spacing optimized for 2 and 3-way SLI/CrossFireX spacing. It has dual Gbit NICs (one Intel and one Killer). The motherboard also has U.2 and M.2 ports designed to support the Intel 750 NVMe SSDs and other brands that require 4x PCI-E 3.0 for best performance. The motherboard is also equipped with RGB LEDs and hybrid fan connectors that support both voltage and PWM mode fans. The RGBs on the board are spread all around, and strips down between the memory DIMMs light up as well.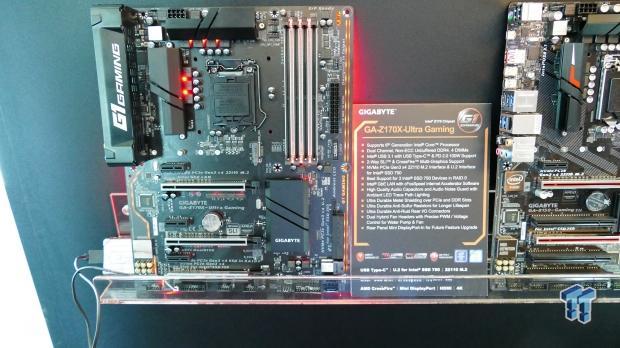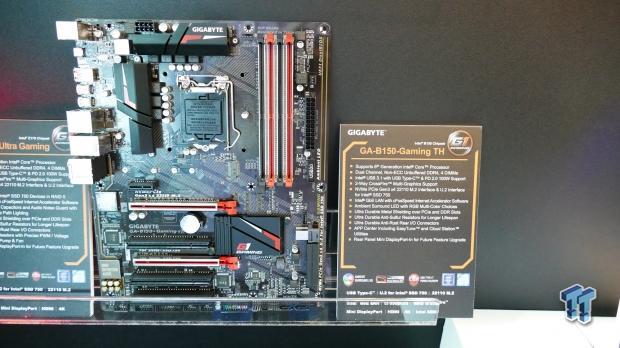 The Z170X-Ultra Gaming is a new gaming model with the 100W USB PD 2.0 support and Intel USB 3.1 Type-C. The LEDs light up all around the motherboard and between the memory DIMMs. The U.2 and M.2 ports support RAID0 and are designed to fully support the fastest U.2 and M.2 drives. I was surprised to find the B150-Gaming TH, as GIGABYTE has traditionally kept its Gaming lineup in the premium arena. While the motherboard seems like it should support Thunderbolt 3.0 (as per the name), GIGABYTE isn't officially supporting it in the feature list because it hasn't yet been certified (it takes time). The motherboard is aimed at enthusiasts who don't require the Z-series chipset but do want the latest features such as U.2 and M.2.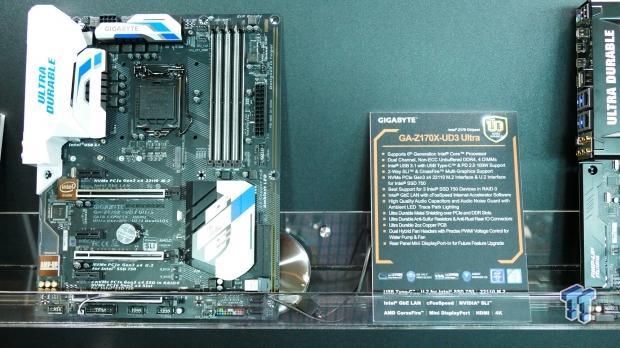 The Z170X-UD3 Ultra is also a newcomer, and it also supports 3x NVMe PCI-E 3.0 SSDs in RAID 0 through U.2, M.2, and PCI-E. The motherboard also has the Intel USB 3.1 and 100W USB PD 2.0 support; it's a toned down Z170X-Designare.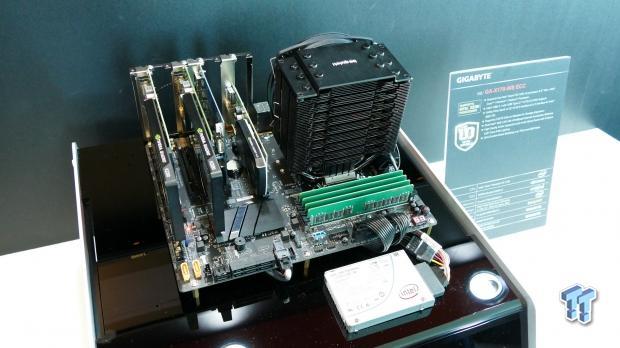 The X170-WS ECC is GIGABYTE's first workstation class motherboard not based on Z170 counterparts. Using the C236 chipset, it supports E3-1200 v5 Intel Xeons and all 6th Generation LGA1151 CPUs. It has Intel USB 3.1 Type-C and USB PD 2.0 36W support. The motherboard also has support for U.2 and M.2. It carries two SATA-DOM ports and dual Intel Gbit NICs. The motherboard also has a slew of other workstation features, but we will wait to reveal them until GIGABYTE announces them later on.
New GIGABYTE Tiny Motherboards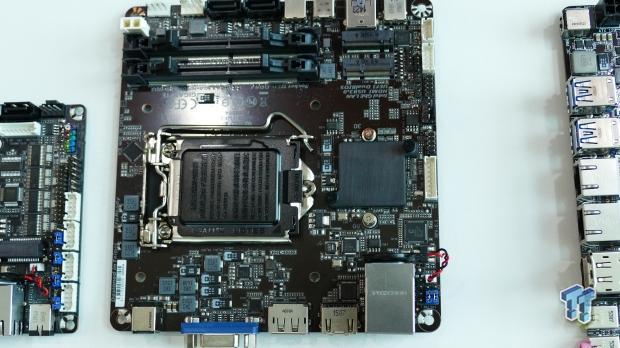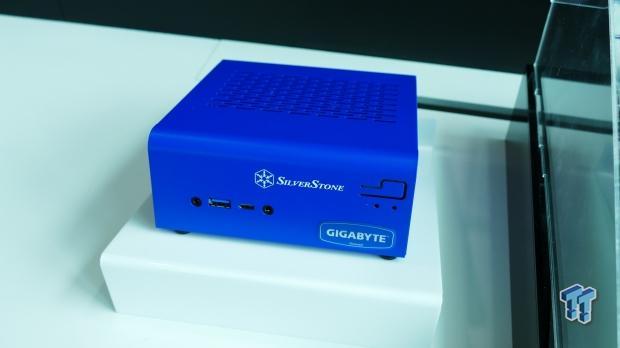 Intel's new STX form factor has hit the scene, and GIGABYTE has launched a new H110MSTX-HD3 motherboard which supports Skylake CPUs. These STX systems are usually barebones and support desktop CPUs. Dual channel DDR4 SO-DIMMs are used for memory, and there are two M.2 slots; one for WIFI and one for an SSD drive. The motherboard also has Intel LAN. Silverstone has made some cases that work with the new STX form factor and provided it a level of elegance.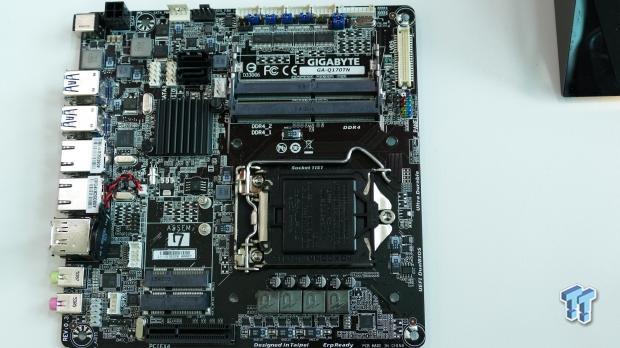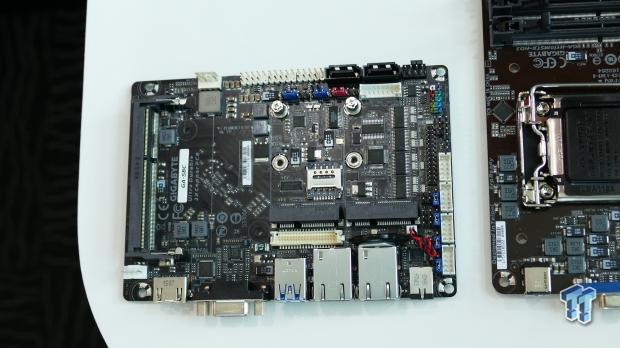 GIGABYTE also had two other boards on display, the Q170TN, and SBC. The Q170TN supports Skylake LGA1151 CPUs and the SBC sports a built-in Pentium or Celeron. The Q170TN uses dual channel DDR4 SO-DIMMs while the SBC uses DDR3L SO-DIMMs. Both have two mini-PCIe slots for WIFI and storage. Both of these boards are targeted towards business and industrial buyers where Serial/COM ports are more useful than USB. The Q170TN also supports vPro.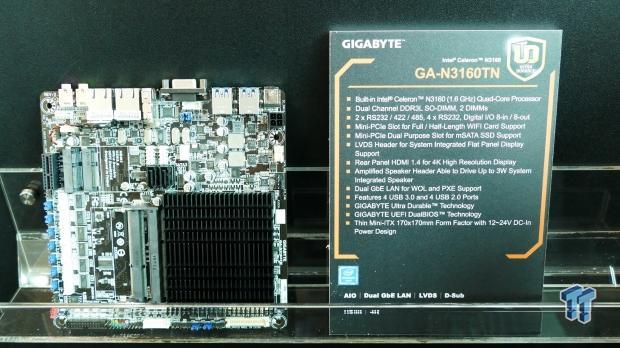 The GA-N3160TN uses an N3160 quad-core processor and has two DDR3L SO-DIMMs. The board is loaded up for industrial use with RS232 ports in different sizes as well as digital IO. There are also two mini-PCIe slots for WIFI and storage. The small board sports dual Gbit LAN.