AMD positions Polaris 10 for desktop, Polaris 11 for notebooks
AMD's next-gen Polaris 10 will be for desktop and high-end notebooks, while Polaris 11 is for notebook market.

Published Fri, Apr 22 2016 9:50 PM CDT
|
Updated Tue, Nov 3 2020 12:00 PM CST
We now have a better idea of what AMD's next-gen Polaris architecture will be when it arrives on video cards next month, thanks to AMD's recent press release.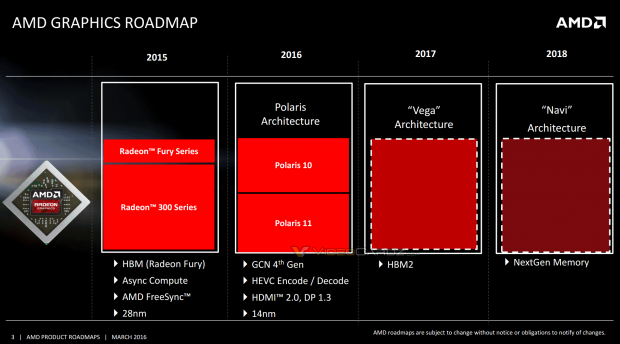 There's on specific paragraph that's worth discussing, where AMD said: "AMD demonstrated its "Polaris" 10 and 11 next-generation GPUs, with Polaris 11 targeting the notebook market and "Polaris" 10 aimed at the mainstream desktop and high-end gaming notebook segment. "Polaris" architecture-based GPUs are expected to deliver a 2x performance per watt improvement over current generation products and are designed for intensive workloads including 4K video playback and virtual reality (VR)".
But as VideoCardz notes, we need to focus on the word 'mainstream'. AMD has stamped the word 'mainstream' onto everything between casual and enthusiast segments, where back in 2014, mainstream was associated with the Radeon R7 260.
I think we'll see Polaris 10 powering the Radeon R9 490X/490 and R9 380X/380 while a watered down Polaris 10 GPU will power the rest of the 400 series. As for the notebook market, the Polaris 11 will take care of those, where I hope we'll see 1080p 60FPS become a norm with thin ultrabooks.
Related Tags