DJI unveils its new M600 hexacopter, with 6 separate 'smart' batteries
DJI unveils its new Matrice 600 drone, capable of handling the insane Red Epic camera in the air.

Published Mon, Apr 18 2016 9:28 PM CDT
|
Updated Tue, Nov 3 2020 12:00 PM CST
DJI has been making some seriously good professional drones over the years, with its impressive Phantom series, but has just unveiled its latest is the Matrice 600, a hexacopter that is capable of adjusting how it flies automatically, depending on what camera is attached.
The M600 costs $4599, and is the latest drone in DJI's huge professional lineup that is a successor to its current "Spreading Wings" series, which are higher-end craft that include retractable landing gear, and a foldable design. The new M600 features dust-proof propellers, as well as self-cooling motors.
DJI's new M600 launches with an improved, robust A3 flight controller that will change flight parameters depending on what it's carrying, and the amazing Lightbridge 2 camera link. Lightbridge 2 delivers higher frame rates over 1080p live-streamed video back to the pilot, at up to 3 miles away. This video is pumped to the pilot at 1080p 60FPS, which is impressive given the 3-mile distance allowance.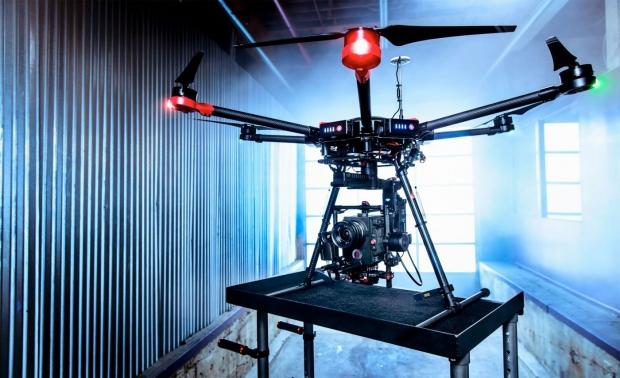 The M600 supports nearly the entire line of DJI cameras and Zenmuse gimbals, including the new Ronin MX handheld camera stabilizer with its own IMU and Bluetooth link for improved stability. The M600 also supports other professional cameras, such as the popular Red Epic.
To provide more battery life, and thus time in the air, DJI deployed six separate "smart" batteries into the M600. This means if one of the batteries dies, the drone continues to fly. Not only that, but the batteries are smaller, so the total flight time reaches around 36 minutes (using the Zenmuse X5 camera) - meaning heavier cameras will reduce that 36-minute flight time, to somewhere around the 15-20 minute mark.
There's also a new adapter for DJI's smaller Osmo hand-held stabilizer, which now supports the Zenmuse X5 and X5R cameras.
Related Tags