Green Goblin's hoverboard is real, and it's called the Flyboard Air
Now you can channel Green Goblin's maniacal devil-may-care attitude and soar up to 10,000 feet at 93 MPH.

Published Mon, Apr 11 2016 3:32 PM CDT
|
Updated Tue, Nov 3 2020 12:00 PM CST
Admit it--you've always wanted to fly around on the Green Goblin's hoverboard, recklessly zooming across the skies at ridiculous speeds. Soon you'll be able to.
Frank Zapata of Zapata Racing has created the Flyboard Air, a real-life hoverboard that'd make Norman Osborn green with envy (sorry, I had to). The Flyboard Air can reach staggering heights of up to 10,000 feet and hits a max speed of 93 miles-per-hour. Zapata also created the original Flyboard, a water-powered jetpack that shoots riders up in the air for some hydraulic fun.
As you can see from the video above, the Flyboard Air is still in its testing phases. The craft looks insanely dangerous (and insanely fun), and Zapata hasn't revealed how the device actually works. As if scouring the heavens at ridiculous speeds wasn't death-defying enough, the tecchies at Gizmodo think that users will need to strap a backpack full of fuel to power the craft's turbine engine. So not only could you end up a pile of broken bones, but you could explode like a ball of screaming fire in the skies.
No information on a potential Flyboard Air release has been revealed so far, but I'm thinking Zapata has a lot of tweaking and testing to do before its ready for thrill-seekers. It's still great to see an actual, authentic hoverboard being created, especially one that's so ridiculously powerful that it makes Marty McFly's hoverboard look like a baby's toy. And unlike Marty's pink hoverboard, the Flyboard Air works on water.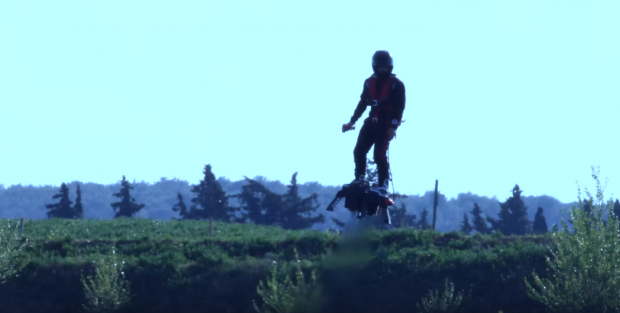 Related Tags