Battlecursed takes roguelike ARPGs to a whole different level
Battlecursed is a new rogue-like ARPG that lets you control an entire heroic party against ever-changing enemies and dungeons.
Published Tue, Mar 15 2016 3:01 PM CDT
|
Updated Tue, Nov 3 2020 12:00 PM CST
Battlecursed is an upcoming roguelike action RPG where you're in control of a four person party with real-time, first-person perspective battles.
It's like the usual RPG's you've probably played (think Elder Scrolls) but on crack. That is, every dungeon you enter is procedural generated, with not only a different layout, but different loot, traps and enemies lurking around. It'll take some swift thinking and calculated strategies to manage the whole party and successfully navigate the dangerous dungeons below.
Initial hero classes that you'll be able to play as include the Huntress, Cleric, Grave Knight and Necromancer. The shrewd Huntress stealthily takes down opponents using her agility to dodge attacks and dexterity to strike with fatal precision. The Necromancer taps into undead sorcery, binding all manner of evil creatures to carry out the party's bidding. The Grave Knight plows through enemies with his superior strength and surprises many with his deadly frost spells. The Cleric, empowered with divine magic, will serve as the primary healer and protector of the party.
All in all, it's a new take on how to properly vanquish enemies in a rogue-like ARPG. It looks good and the idea of having a large, even AI controlled, party to help out in the tough spots is a good idea, though that could get a bit complicated unless the party AI itself is well groomed.
It's in pre-alpha at the moment and being worked on diligently. They want to make Battlecursed a game that's cross-platform and one that can appeal to both hardcore and casual gamers too. A challenge if you want to integrate both, but it's exciting to see new developments in high-fantasy ARPG's.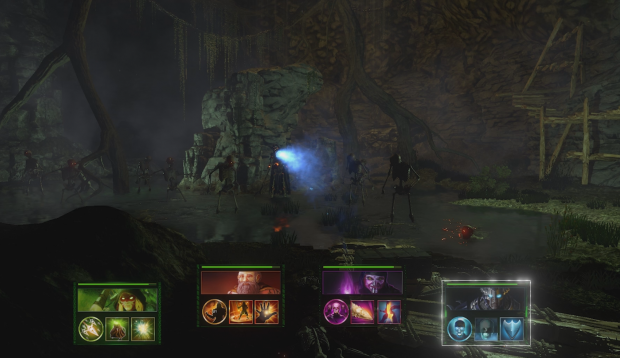 Related Tags