Stardock's working on letting you mix NVIDIA and AMD GPUs
Stardock teases that it will unveil a new technology that lets you mix NVIDIA and AMD GPUs.

Published Mon, Mar 14 2016 1:25 PM CDT
|
Updated Tue, Nov 3 2020 12:00 PM CST
GDC 2016 - Stardock has some exciting stuff on its hands with Ashes of the Singularity, a DirectX 12-powered game that has an awesome benchmark for mixing AMD and NVIDIA video cards - but it's limited to just one game, for now.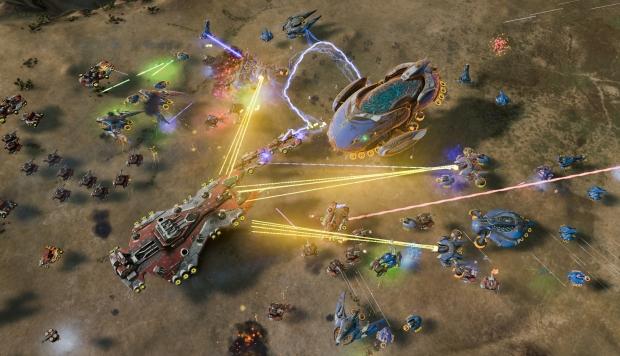 Stardock has teased that it's working on a software solution, something that's part of DirectX 12, that will let gamers use multi-GPU support on DX12 games. Outside of AotS, multi-GPU support through DX12 isn't really a thing, but it could very well be in the near future.
Brad Wardell, Stardock CEO, explained to VentureBeat: "One of the biggest problems with games is that a new video card comes out from AMD and NVIDIA, and they're like [expensive], and you have to make a call. I like my video card. I can play most games on it, and I don't want to spend $800 on some new video card. But imagine, instead, hey, they're having a sale [using my GTX 760 as an example]. Hey, they're having a sale on an AMD 290 for $75. Wouldn't it be cool to put this into your computer and double your performance. You keep this in there [the 760]. You put this in there [the 290], and your games are twice as fast without doing anything else".
Stardock has been working on this software for the better part of a year and have been in constant communication with both AMD and NVIDIA regarding the solution. The company will unveil its solution alongside Microsoft at GDC this week.
Wardell concluded: "They don't love that part [mixing competing cards in one PC], but [what they do love] is the idea that people will buy more cards. It's a major friction where someone says, 'I have a card that works. I'm not going to spend $800.' They don't get the sale. But you're going to get the same effect by adding [an] $80 video card [to your existing setup]".
Related Tags