Play our 'Game of Thrones', take home a free Blu-ray!
As the epic season five comes home, you can be the victor and get one for nix!

Published Mon, Mar 14 2016 12:40 AM CDT
|
Updated Tue, Nov 3 2020 12:00 PM CST
To celebrate this week's release of 'Game of Thrones: The Complete Fifth Season' on Blu-ray HD and DVD, we have five Blu-ray prize packs to give away thanks to our friends at Roadshow Home Entertainment.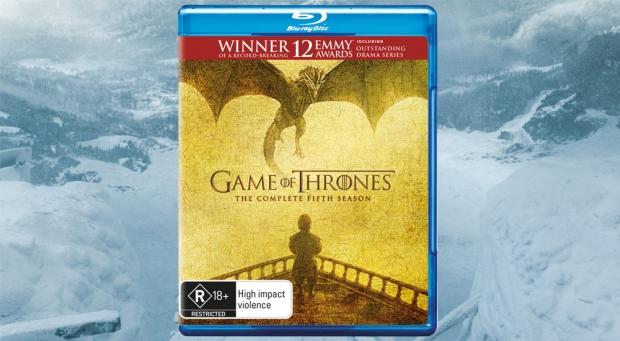 'Game of Thrones: Season Five' begins with a power vacuum that protagonists across Westeros and Essos look to fill. At Castle Black, Jon Snow struggles to balance the demands of the Night's Watch with those of newly-arrived Stannis Baratheon, who styles himself the rightful king of Westeros. Meanwhile, Cersei scrabbles to hold on to power in King's Landing amidst the Tyrells and the rise of a religious group led by the enigmatic High Sparrow, while Jaime embarks on a secret mission. Across the Narrow Sea, Arya seeks an old friend while a fugitive Tyrion finds a new cause. And as danger mounts in Meereen, Daenerys Targaryen finds that her tenuous hold on the city requires some hard sacrifices. This season features some of the most explosive scenes yet, as the promise that "winter is coming" becomes more ominous than ever before.
To go into the running to win a prize, simply answer the following question in 50 words or less:
Who will survive to the bitter end of 'Game of Thrones', taking the crown and why do you think that will be?
To enter, simply 'like' this post and share via Facebook or Twitter and send your answers, along with your postal address to ben at TweakTown dot com before the competition closes on March 18.
'Game of Thrones: The Complete Fifth Season' is available on Blu-ray, DVD and Digital from Australian retailers from March 16.
Related Tags