VESA announce DisplayPort 1.4 - handles 8K 60FPS, and 4K 120Hz HDR
DisplayPort 1.4 is capable of 8K at 60FPS as well as 4K at 120Hz with HDR enabled.

Published Wed, Mar 2 2016 5:17 PM CST
|
Updated Tue, Nov 3 2020 12:01 PM CST
DisplayPort 1.4 is now official, with the Video Electronics Standards Association (VESA) publishing their new DP1.4 standard. DisplayPort 1.4 allows for huge advantages over DP1.3, with higher resolutions and refresh rates supported.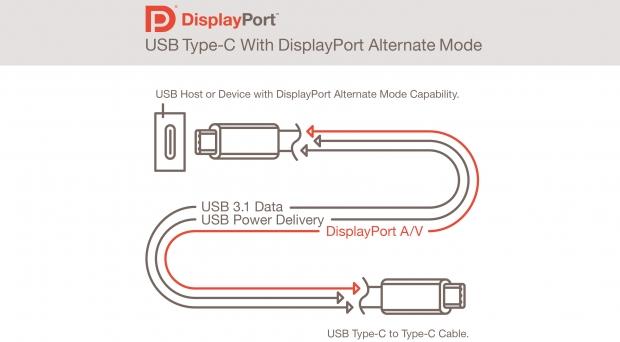 DP1.4 will also make use of USB Type-C and Thunderbolt connectivity, which will allow smaller devices like laptops to make great use of the higher resolutions. DP1.4 includes 32.4GB/sec of bandwidth, which opens the flood gates to 8K @ 60Hz (with HDR Deep Color), and 4K @ 120Hz (with HDR Deep Color) as well as many other technologies. These include:
Forward Error Correction - FEC, which overlays the DSC 1.2 transport, addresses the transport error resiliency needed for compressed video transport to external displays.
HDR meta transport - HDR meta transport uses the "secondary data packet" transport inherent in the DisplayPort standard to provide support for the current CTA 861.3 standard, which is useful for DP to HDMI 2.0a protocol conversion, among other examples. It also offers a flexible metadata packet transport to support future dynamic HDR standards.
Expanded audio transport - This spec extension covers capabilities such as 32 audio channels, 1536kHz sample rate, and inclusion of all known audio formats.
What does this mean for gamers? Well, AMD's upcoming Polaris architecture supports DisplayPort 1.3 - allowing for 8K resolution support at 60FPS, as well as 4K @ 120Hz with HDR enabled (and 4K @ 240Hz). NVIDIA will unveil their new Pascal-based architecture next month at their GPU Technology Conference.
Related Tags