AMD is doubling down on their embedded G-Series SoC's, tiny APU's designed with industrial applications in mind. The newest members of the family are the 3rd generation of their embedded platform, putting Excavator based cores in the high-end and Jaguar-based cores in the low-end, and they're completely pin compatible with earlier iterations of the G series (and R for the high-end chips being announced), allowing easier upgrading for customers on older hardware.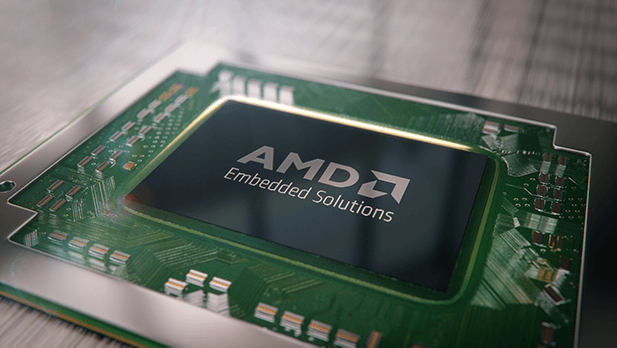 The new G-Series LX fills in the low-end with two Jaguar cores with GCN and AMD's ARM-based security co-processor. It operates at a very low 6-15W and can withstand far harsher conditions than the typical desktop processor. Available in March, this new SoC is designed for the point-of-sale market and even arcade gaming market. With their ARM co-processor it might even make a good companion to industrial automation in the connected age.
The high-end G-Series marries two Excavator cores with four GCN compute units that allow for a much better compute load if OpenCL is used. AMD is targeting similar industries that need higher compute load at a low 6-15W TDP. They expect that it'll be a good fit for the digital signage and even set-top boxes, despite that arena being dominated by ARM. This too has an integrated ARM-based security co-processor.This new processor is actually pin compatible with the higher-end R series of SoC's letting customers choose between what sort of power-envelope they want.
They currently have a number of very interesting design wins with the G-Series of processors. In particular you'll find them in thin clients from the big manufacturers due to their low cost and high capabilities. Another design win is with Boeing and the new 777. The G-Series is what powers the electronics and keeps the airplane running smoothly.
At the moment, it though seems that Intel and even ARM have the advantage in the industrial market, with offerings that have had a much lower TDP and providing a faster experience than AMD, though the slightly updated architecture combined with HSA could be well received. "The embedded market is an incredibly dynamic space right now, enabled by more immersive graphics and significant gains in power efficiency and performance," said Shane Rau, IDC. "The advent of versatile system on chip (SoC) solutions that are pin-compatible across a range of performance and price, coupled with comprehensive embedded software stacks, are giving product engineers a much greater range of choices in building dynamic, graphically rich next gen systems."
G-Series LX "Brown Falcon: specifications:
2 "Jaguar" x86 cores

AMD Radeon™ Graphics Core Next (GCN) graphics

Multi-format encode & decode

Multiple display technology - HDMITM 2.0, DP 1.2, eDP 1.4

6~15W TDP

Single-channel DDR3

AMD Secure Processor

Industrial temperature - extended temperature SKUs
G-Series "Prairie Falcon" specifications:
Up to 2 "Excavator" x86 cores

AMD Radeon™ graphics (up to 4 GCN compute units2)

4K x 2K H.265 decode (10-bit compatibility on select devices) & multi-format encode & decode

Multiple display technology - HDMITM 2.0, DP 1.2, eDP 1.4

6~15W Thermal Design Power (TDP)

Up to 2 Channels DDR4/DDR3

Integrated AMD Secure Processor

10-year planned longevity