Intel's new 16-core Xeon D-1587 is a beast, in a small 65W package
Intel's upcoming Broadwell-based Xeon D-1587 packs 16 cores (32 threads) and just 65W TDP.

Published Sat, Feb 20 2016 10:53 PM CST
|
Updated Tue, Nov 3 2020 12:01 PM CST
Intel launched their new Broadwell-based Xeon D processors last week, led by the impressive Xeon D-1587. Intel's new Xeon D family includes a few system-on-chip (SoCs) that are aimed at the microserver and storage markets, thanks to Intel being able to make the new Xeon D family in a low TDP package.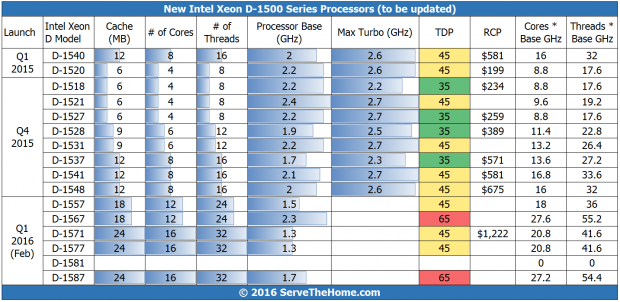 The flagship Xeon D-1587 is a beast in itself, with 16 physical cores with 32 logical threads. It boasts 24MB of cache, and has its 16 cores clocked at 1.7GHz, best of all - it rocks this all at 65W. Impressive, eh? The next one down is the Xeon D-1577 which has the same specifications, 16 cores and the same 24MB cache, but a 1.3GHz clock speed and only 45W TDP. Last of all, is the Xeon D-1571 which features the same 16-core goodness, falling in line with the Xeon E5 V4 processors powered by Broadwell-EP. But, it gets a clock speed of 1.3GHz, 24MB cache, and same 45W TDP.
Intel's new Broadwell-powered Xeon D processors arrive in BGA packaging, so you'll need to purchase them directly from Intel's AIB partners, such as SuperMicro, GIGABYTE, or others. As for pricing, the Xeon D-1571 is priced at $1222, so expect the Xeon D-1587 to be priced a little higher than that. But the next question is: what about performance? Yeah well, Intel has you covered there, too. Before that, we have support for dual-channel DDR4 2133MHz, or DDR3L at 1600MHz. The system would support up to 128GB of RDIMM, 64GB of UDIMM/SO-DIMM in ECC or non-ECC. The SoC features a total of 24 x PCIe 3.0 lanes and 8 x PCIe 2.0 lanes, while we have dual 10GbE for networking, 4 x USB 3.0 and 4 x USB 2.0 ports, with 6 x SATA 6Gbps ports for HDD connectivity.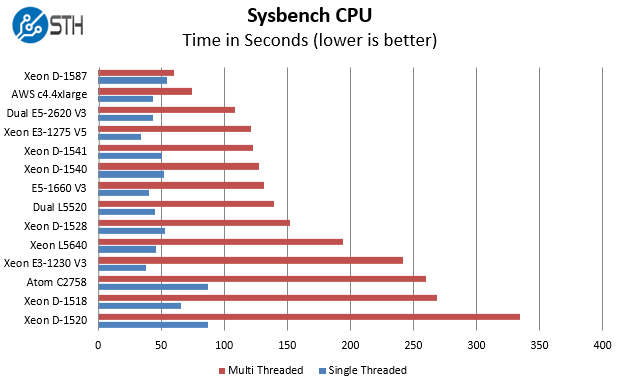 ServeTheHome has posted some benchmarks using the new Xeon D-1587 with some very surprising results. They pitted Intel's new Broadwell-based SoC offering against the likes of the dual E5-2620 V3, E5-1660 V3, and various other Xeon processors.
Related Tags