Fusion power is seen as the holy grail for renewable and clean energy sources. Harnessing the power of the stars would propel mankind to extraordinary heights, and instantly resolve our growing energy crises to boot. Now thanks to the nuclear fusion experiments conducted by the Max Planck Institute of Physics in Germany, we're one step closer to unlocking the secrets of fusion power.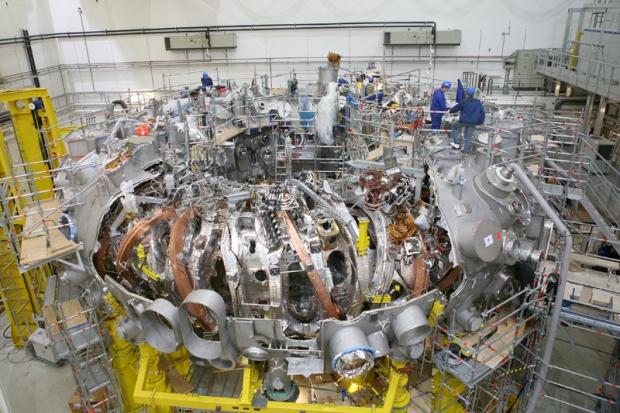 The world's largest nuclear fusion stellarator, the Wendelstein 7-X, has just made history by being the first stellarator-type fusion device to produce hydrogen plasma. Hydrogen plasma is vital to re-creating and molding the specific conditions of our Sun, thus facilitating fusion reactions.
"It's a very clean source of power, the cleanest you could possibly wish for. We're not doing this for us, but for our children and grandchildren," Karlsruhe Institute of Technology physicist John Jelonnek said.
Before now, it was believed that only tokamak fusion test reactors could produce superheated hydrogen plasma. Scientists have proven that stellarators can not only achieve the same end product but have a significant advantage over other reactors, as they can be operating continuously.
"With a temperature of 80 million degrees and a lifetime of a quarter of a second, the device's first hydrogen plasma has completely lived up to our expectations", said Dr. Hans-Stephan Bosch, who works in close collaboration with the W7-X. The German nuclear fusion system won't produce fusion power, but instead is wholly focused on experimental fusion research.
Scientists are expected to continue experimenting with the Wendelstein 7-X well into March, and will start to ignite fusion reactions in 2019.
"In a later phase of W-X, starting in 2019, we will use deuterium and we will get fusion reactions, but not enough to get more energy out than we are putting in," scientist Hans-Stephan Bosch said to the IEEE Spectrum.
For more on this breakthrough, be sure to check the experiment's official press release and an interview over at the Max Planck Institute website.