It's been a hard road for the adoption of the latest version of Android, but 4 months later we're now looking at 1.2% of reported Android devices running Android 6.0, Marshmallow.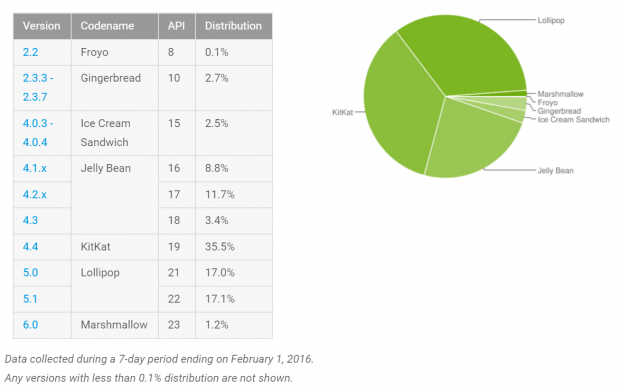 The update process used to be far more complicated and lengthy as carrier testing sometimes prohibited devices from receiving the newest updates and then sometimes even becoming abandoned. There are still issues with manufacturers' ability to quickly roll-out updates, and with KitKat (4.4) being the most prevalent version installed, it doesn't seem like the roll-out process is becoming any more streamlined.
The meager 1.2% is likely attributed to the numbers of Nexus 6P and 5X phones sold, and not because of older devices being updated. This points to their new phones not really selling very well, or even to a market dilution with so many Android phones available.
The statistics are gathered from the Google Play Store app and reports on the number of devices that visit and run it. Since it requires Android 2.2 and above, we won't see anything older, nor any devices that run Android but don't have access to the Google Play Store.